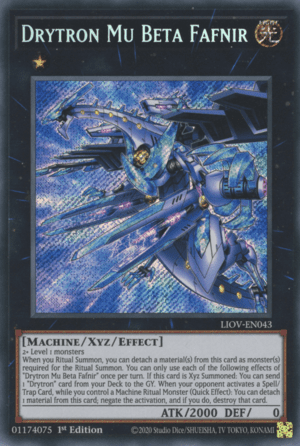 Last Updated:
The Yugioh Master Duel meta is a diverse one currently. But for those who want to get to the top ranks of competitive play with no experience, it can be difficult. Well don't worry, these guides will take you through Master Duels best decks, their goals, combos, and what you should be seeing at the end of your turns.
The type of card in a deck will be broken down into a few categories:
Searcher – This card lets you search your deck for another card
Extender – This card will special summon itself or another card
Starter – A card that will begin your combo
Interrupter – A card that allows for interaction on your opponent's turn, be this negate, destroy, or return a card to the hand.
Finisher – A card intended to finish up games by attacking
Drytron & Ritual Fairies
A deck that cannot be stopped. Currently one of the best decks and with good reason. This deck can play through 3 to 4 pieces of interruption and still end on a board of incredible cards, multiple negates, and resources to go again next turn.
Drytron
A new and unique ritual summoning archetype that summons based on the attack of the monsters not levels like classic ritual monsters. Each Drytron main deck monster has 2000 attack, is level 1, and cannot be normal summoned.
They can be special summoned from your hand or graveyard by tributing a Drytron or ritual monster. You will see why the use of the word tribute is important later. Each Drytron also has a unique effect to extend your combos but we can get into that later.
Fairies
A strange collection of archetypes, the ritual Fairies were the key to breaking this deck. Cyber Angels and Heralds are the two archetypes that make up the Ritual fairy portion of this deck. These cards are great at getting your resources back for making those efficient plays and keeping your hand stocked with cards.
The Heralds are cards that are powerful negators. Each card can negate some kind of card your opponent has normally at a high cost. But with Drytron and the Cyber angels this isn't a problem.
The Synergy
Cyber Angel Benten is a level 6, light fairy, Ritual monster that when it is Tributed you can search for another Light fairy monster. This means tributing by any means including for the effect of a Drytron monster. Also, you can just add another Benten with Benten's effect, making the effect to summon a Drytron effectively free. This initial connection between this card and the Drytron archetype is what let Drytron quickly snowball into the powerhouse it is today.
The Deck
Drytron cards
Drytron Alpha Thubin (Searcher)
Drytron Zeta Aldhibah (Searcher)
Drytron Gamma Eltanin (Extender)
Drytron Delta Altais (Extender)
Drytron Meteonis Draconids (Finisher/ Interuppter )
Main deck
The gang is all here. Alpha when summoned searches for any ritual monster. Zeta when Summoned searches any Ritual spell, but you will only be searching for one. Delta lets you draw a card if you reveal a ritual monster or spell. Meteonis Draconids is optional in this deck but it can clean up board when summoned using 2 Drytrons, allowing it to attack every monster your opponent controls once. With 4000 attack not much it going to be surviving that. It can also at quick effect speed send cards to the graveyard, an all-around insane boss monster. Gamma when summoned gets another Dryton onto the field allowing for extended plays.
Spells and traps
Drytron Nova (Starter)
Meteonis Drytron (Extender)
Drytron Fafnir (Starter)
Drytron Nova summons any Drytron from the deck, the rest doesn't really matter as you won't be normal summoning any monster in this deck. Meteonis is the Drytron ritual spell and the only one in this deck. It ritual summons using attack points and can add itself back to the hand for the low price of making a monster lose 1000 attack. Fafnir the field spell searches any Drytron spell/trap when activated. So if you get this on turn one you can search nova, if you draw it any later you can still search nova because Nova can summon any of the Drytron monsters. Consistency really is a key to a deck like this.
Drytron Mu Beta Fafnir (Extender/Searcher/Interrupter)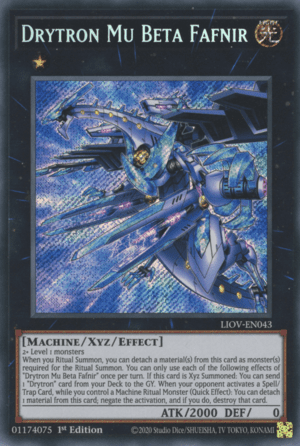 Now, this is a boss monster. If you ritual summon while Mu Beta is on the field you can detach the materials used to make this card for that summon. When you Xyz summon Mu Beta you can send any Drytron from your deck to the grave. Since Drytron monster can summon from the Graveyard, this is a search. Finally when your opponent has the audacity to play a spell or trap you can detach a material and negate the activation. Before this card lose Drytron monsters would just sit idly on the field, with Mu Beta they keep your combo going.
Fairies
Main deck
Herald of Orange Light (Interrupter)
Cyber Angel Benten (Searcher/Extender)
Eva (Searcher)
Herald of Ulrimateness(Interupter)
Diviner of the Herald (Starter)
Benten is free fuel for your Drytron effects, and search a Light Fairy when used this way. So you can search for another Benten, this turns the normally inefficient Drytrons into a sleek card efficient deck. And once you have used all 3 Benten's you could search for Eva or Diviner of the Herald.
Diviner lets you send a fairy monster from your extra deck to the graveyard, which is important for later on. Sending a card to the grave also increases Diviner's level by the sent cards level. Then if Diviner is tributed you can summon a level 2 or lower fairy from your hand or deck.
Eva is a level one light fairy that can be searched by Benten or Diviner. When Eva is sent to the grave it can banish up to two fairies to add two level two or lower fairies to your hand, this will be Herald of the Orange Light or Diviner of the Herald.
Orange light is a negate from the hand of any monster effect at the cost of discarding Orange and another fairy type, if this it Eva you can add the other two Orange lights to your hand.
Herald of Ultimateness is optional as some decks don't run it. But with it, you can negate anything, effect or Summon. The cost just discarding one fairy. Normally it would take 12 monster levels to summon this, but with Drytrons, it takes a single Drytron since it has 2000 attack.
Herald of the Arc Light (Interrupter/Searcher)
Arc Light negates any effect while on the field by just sending it to the grave. This is less likely to happen as instead, you will be sending it to the grave by the effect of Diviner. Told you it would be important later. When sent to the grave Arc light searches for any Ritual Monster or Ritual spell. With so many ways to get to Benten, it's no wonder this deck is as good as it is.
Additional cards
Cyber Emergency (Starter)
Preparation of Rites (Starter)
Beatrice, Lady of the Eternal(Extender)
Cyber Emergency searches any Dryrtron monster. Because they didn't have enough consistency we are now stealing Cyber Dragon support.
Preparation of Rites searches for a level 7 or lower ritual monster, so you will be searching for Benten. Again this deck has so much consistency it's not entirely needed.
Beatrice, Lady of the Eternal is a rank 6 XYZ that is surprisingly easy to make. It can send any card from your deck to the grave. Endless utility in this deck. Send a Drytron or Eva to extend your plays even further.
The Combos
Alpha + Zeta
The A to Z combo is a great example of what this deck can do.
Firstly summon Alpha by tributing Zeta from your hand. Search for Benten with Alpha's effect.
Summon Zeta from the grave by tributing the Benten in your hand. Search from Meteonis Drytron with Zeta's effect and Diviner of Heralds with Benten's effect.
XYZ summon Mu Beta Fafnir with your two Drytrons on the field. With Mu Beta's effect send Drytron Gamma.
Using Diviner's normal summon and using her effect to send Arclight from the extra deck, increase her level by 4 to 6. Search for your second Benten.
Ritual summon the Benten in your grave using material on Mu Beta Fafnir.
Overlay the Level 6 Benten and Diviner for Beatrice, send Eva from your deck to the Grave with Beatrice's effect.
Add another Diviner and a Herald of Orange light from Eva's effect.
Return Meteonis Drytron to your hand, using its effect and reducing your Mu Beta by 1000 attack.
Summon Gamma by sending your Benten is your hand to the Graveyard.
Search for Ultimateness using Benten's effect.
Ritual summon Ultimateness using Meteonis Drytron and the remaining Material on Mu Beta Fafnir.
On your opponent's turn use Beatrice again to send another Eva.
Use Eva to add the other two Orange lights.
You can see just how dense these combos can be. It's a hard deck to play with a lot of complex combo lines that vary depending on your situation. It also has a large amount of customization that makes the deck be tailored to your specific liking.
There are more combos so here is SuperInsaiyan18 to show you some more combos along with the percentage chances of opening with them.
The Price and the Packs
To find the Drytron cards you will need to pull from The Celestial Dragon and Bear secret pack. The Fairy cards you can pull from the Miraculous advent secret pack. Both of these can be unlocked by crafting an SR or UR from those packs.
N-CP : 60
R-CP : 300
SR-CP: 480
UR-CP: 240
As you can see this deck is quite expensive. Most of the cards are SR to UR outside of some Drytron cards. The Extra Deck isn't much better with Mu Beta and Beatrice being UR. So start saving up now if you want to play one of the best decks in the format.
Here we can see an example of a list with handtraps for extra interaction and Called by the grave to stop opponents' handtraps. The extra deck here also has some finishers like Borrel sword dragon, AA-ZEUS and AccessCode Talker.
Are there any of the best decks you would like to learn how to play? Comment below and we will get started on breaking that deck down
Whilst that's it for this, we've been covering a fair bit of Master Duel content, you can find it all here: