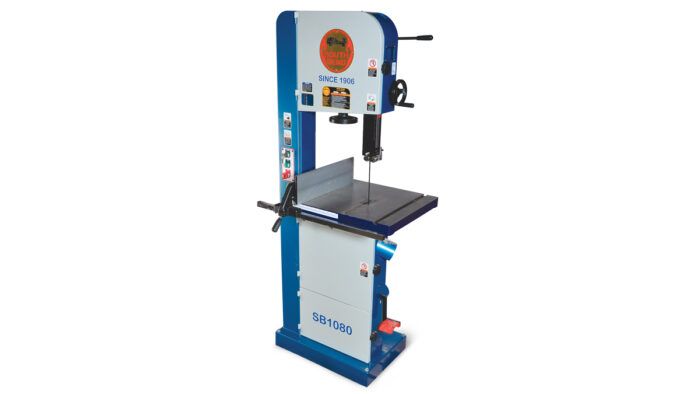 The recent resurrection of the South Bend brand of machines brings a renowned name back to the marketplace, and the SB1080 16-in. bandsaw is a worthy part of the company's lineage. I made a bunch of sawdust with various soft and hard woods and was impressed with the saw's smooth power and vibration-free operation. This massive bandsaw should serve any woodworker well.
The saw's a beast, with a 3-hp motor (230 volt/12 amp), heavy cast-iron wheels, and an overall weight exceeding 475 lb. The wheels are very well balanced. Their weight provides a lot of inertia, helping the blade maintain a constant speed so it cuts at its most efficient rate—an important factor for a machine with 14 in. of resaw capacity. A very effective foot brake can easily and quickly bring the rotating mass to a halt.
The large table, measuring 20-7⁄8 in. by 25-5⁄8 in., is a very heavy casting that is supported on stout trunnions. Angling it for bevel cuts is no issue thanks to a rack-and-pinion system. The two-position aluminum fence slides smoothly and locks accurately. The distance from the guides to the saw frame is 13 in. with the fence and 15-3⁄4 in. without.
Smooth-running roller guides keep the blade tracking and require an Allen wrench for adjustments. The lower guide set has the thrust bearing mounted beneath the side roller guides; that creates extra space between the upper and lower thrust bearings, but it didn't detract from the saw's performance.
A small storage space below the lower wheel is separated from the dust and has its own door to provide a place for extra blades or accessories.
—Roland Johnson is a contributing editor.