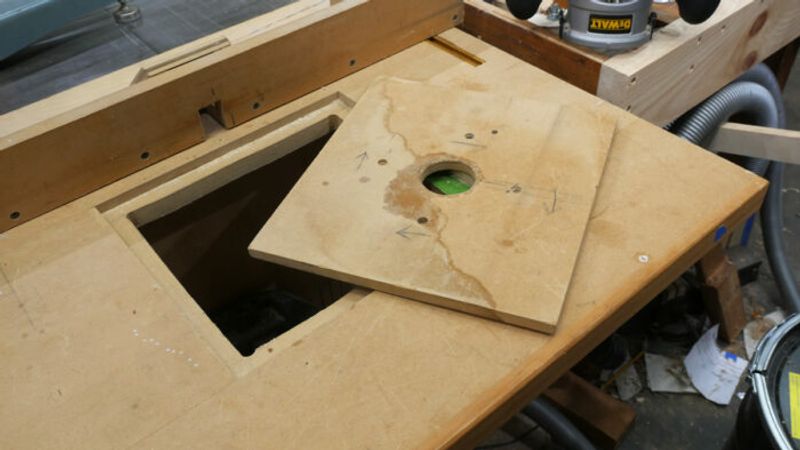 If at no point you couldn't afford to spend $60 on a router plate, do not watch this video, or read any further.
Still there? Cool.
When I started woodworking I very little disposable income. If I could save money by making something, I did. I paid around $200 for my first (and still main) router and that took me months to save up for. If I added $60 for a router plate on top of that, the dream of a router table inched (centimetered?) further away.
The router table I was building was based on plans from (I think) episode 303 of The Woodsmith Shop. It's a great design, and it's so versatile the base is now in use as a storage cabinet in my shop.
The plans called for the top to be two sheets of 3/4-in. MDF laminated together. Instead, I decided to use on sheet of 3/4-in. MDF and on 1/2-in. MDF. The 1/2-in. pieces would be a patch work of pieces, allowing me to leave the center unglued to act as a removable router plate.
In fact, if I was really smart I would have added the t-track for the fence into the quilt-work matrix.
You can easily do without a router plate and just screw the router base to the underside of the your top—but the having a router plate allows you to remove the whole works to dial in bit height, or change bits. Often times I used the router mounted to the plate as an oversized router base when routing handheld.
Is this solution for everyone? Absolutely not, but at the time it fit my needs perfectly, and has been a solid performer for the last ten years. Sadly, I sold my tablesaw and told the new owner that I would leave the router table in the side wing. I was legitimately sad to see it go. I'll make a new tabletop to hold a router lift I bought at a steal. But this router plate and top got me through my first decade of woodworking, and it just serves as proof that you don't need an expensive router table to do good work.