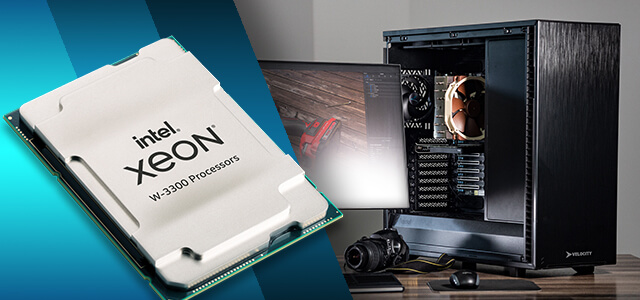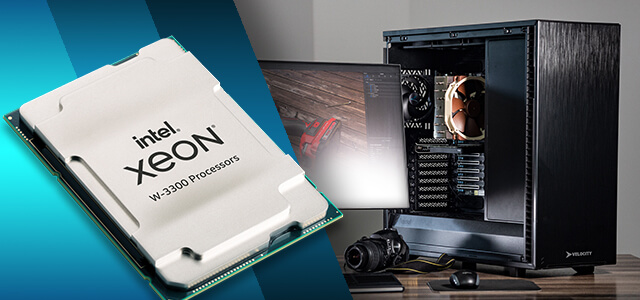 Today, we're excited to finally be able to talk about Intel's latest product release – Xeon W-3300 and our new HD150i workstation that it powers. Built on a new Xeon architecture that's specifically designed to increase both performance and efficiency, Intel has aligned this new set of processors to compete with AMD's Threadripper PRO. There's a lot to like, so let's dig in.
Models
Intel has released five total Xeon W-3300 models, ranging from 12 to 38 core with all supporting Hyperthreading:
Intel® Xeon® W-3375 Processor, 38-core @ 2.5GHz (4.0GHz Turbo), 57MB L3 Cache
Intel® Xeon® W-3365 Processor, 32-core @ 2.7GHz (4.0GHz Turbo), 48MB L3 Cache
Intel® Xeon® W-3345 Processor, 24-core @ 3.0GHz (4.0GHz Turbo), 36MB L3 Cache
Intel® Xeon® W-3335 Processor, 16-core @ 3.4GHz (4.0GHz Turbo), 24MB L3 Cache
Intel® Xeon® W-3323 Processor, 12-core @ 3.5GHz (3.9GHz Turbo), 21MB L3 Cache
W-3300 Features
A bevy of new features align this new Xeon closely with the competition from AMD, especially in the mid-range. Here's just a sample of what it has to offer:
Up to 64 PCIe Gen 4 lanes
Up to 4TB DDR4 8 Channel ECC RAM
Up to 38 cores/76 threads
Up to 4.0 GHz with Intel® Turbo Boost 2.0
Intel® Deep Learning Boost to power ML Inferencing workloads
Intel® AVX 512 instruction support
Error correcting code (ECC) Memory support
Built in reliability, availability, and serviceability (RAS) technologies
Intel® Virtual RAID On CPU (Intel® VROC) support
Benchmarks
Below are some benchmarks we recently ran on the 16-core Xeon W-3335 with NVIDIA Quadro P2200. Even though it's not the top of the stack for this product line, you can still see the value these new processors offer.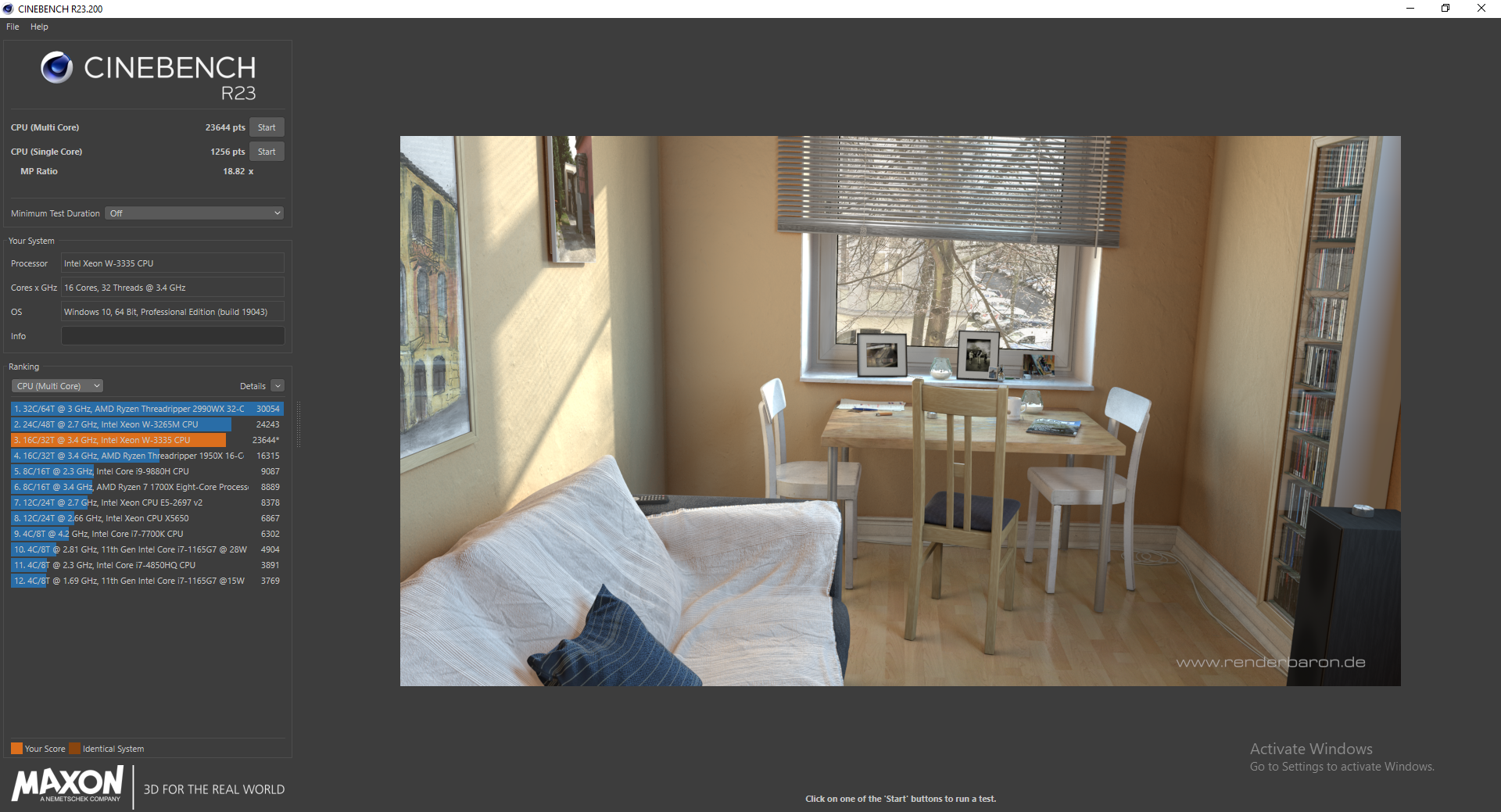 For example, Cinebench, a CPU specific benchmark that's designed to measure heavily threaded processors, produces a score of 23,644. That's inline with a previous gen 24 core Xeon and beats a first gen 16 core Threadripper by about 50%.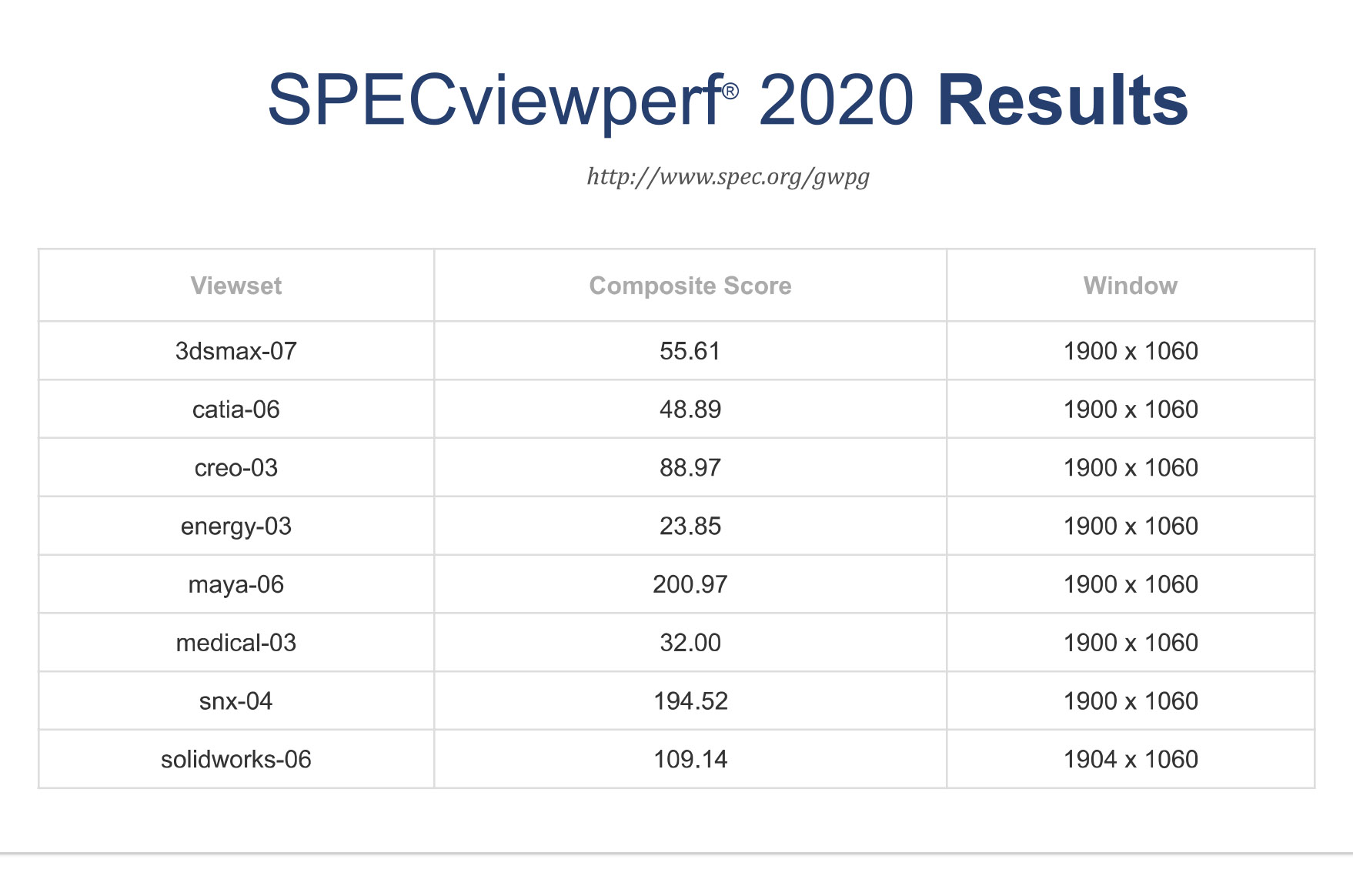 Who is it for?
Intel designed this processor specifically for heavily threaded workloads where potentially very high RAM density can speed up workflow. These include but are not limited to industries like Architecture, Engineering, Construction, Media, and Machine Learning.
Learn more about our ProMagix HD150i powered by Intel W-3300 right here, or chat with one of our expert sales team by calling 804-419-0900.
The following two tabs change content below.
Josh has been with Velocity Micro since 2007 in various Marketing, PR, and Sales related roles. As the Director of Sales & Marketing, he is responsible for all Direct and Retail sales as well as Marketing activities. He enjoys Seinfeld reruns, the Atlanta Braves, and Beatles songs written by John, Paul, or George. Sorry, Ringo.