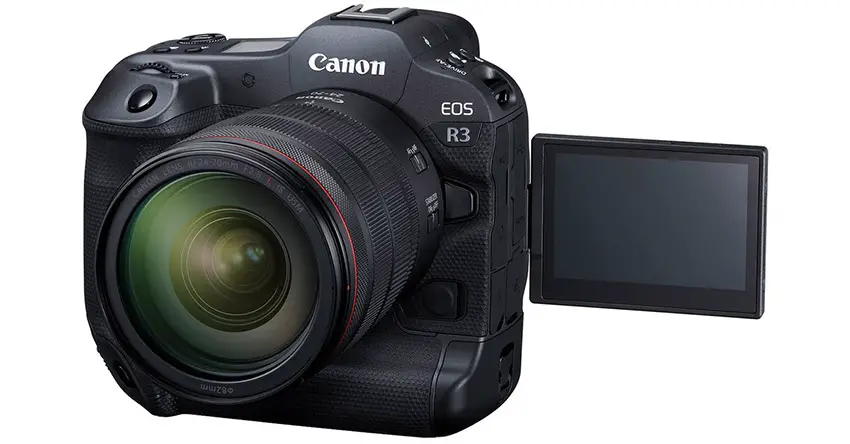 Coming in at the same price, the Canon EOS R3 and EOS C70 present an interesting choice for filmmakers looking for their next camera. The R3 is decidedly a photo camera, yet its video specs look just as good as some powerful cinema cameras.
The C70 is a more classic cinema camera in design and functionality, but it also has a compact, mirrorless-like body design and the actual video specs might not match up with the newer R3. If you want to see a thorough comparison between the two cameras, filmmaker Griffin Conway has done some head-to-head tests.
Four main points are going to be covered:
Image Quality
Slow Motion
Overexposure Recovery
Autofocus
Also, for all the tests the C70 was using the EF-EOS R 0.71x Mount Adapter speedbooster while the R3 had the standard EF adapter so both could have a similar look at use similar lenses.
Image Quality
One note about the Speed Booster showed up quickly in that the C70 showed off a lot more glare. It's important to know and how many people might use the camera in the real world. In other areas, like dynamic range, the cameras look very similar. Where the R3 pulls ahead is in detail and sharpness. It is noticeably sharper and more detailed. The C70 is good but not extremely detailed which some might call more filmlike.
Another area where you can see a difference is in color depth. The R3 benefits from 12-bit raw recording while the C70 is stuck with 10-bit and that extra depth can be seen and used.
Slow Motion
While 4K 60p is actually offering many of the same specs and modes as the basic 4K 24p recordings, 4K 120p is where this comparison actually focused. The R3 has a limitation in that you have to stop shooting raw and will be limited with Canon Log 3 since it is only the compressed formats. You might prefer Canon Log 2 for raw and your other takes, but having the lose that for 120p is a nuisance.
The C70 doesn't actually change from its normal going up to 120p. It keeps all the same settings and options, except you will need to move to Long GOP though this doesn't appear to have a difference in image quality.
Another downside for the R3 is overheating. In 4K 120p you might get around 12 minutes before the camera will need a moment to cool down. Could be difficult to use for extended shooting days.
Overexposure Recovery
This was a very, very close comparison. Going 3 stops over, he pulls it back in Premiere and then looked at footage from both cameras. While dynamic range and such appears very similar, the R3 looks a lot more pleasing to the eye with better color rendering.
Autofocus
The R3 has some clear winning features when it comes to autofocus. Things like Animal Eye tracking is brilliant and responsive to how the animal might realistically move around. There's also vehicle tracking. 
Now, one downside with the R3 is that it could be a bit jumpy. It's almost a bit too responsive. The C70 appears to be better tuned to video recording and has smoother movements and is less likely to bounce to the background from your subject.
The C70 is more trustworthy and the Face Only mode is killer for video. It locks in place when the subject leaves the frame so no awkward jumping to the background. Whole area AF also just does a nice job.
Final Thoughts
When it comes to video, it's hard to deny the benefits of using a dedicated video camera like the C70 over a mirrorless camera like the R3. Things like recording modes, usability, and video-tuned features can make a difference for professionals. Now, a mirrorless camera can be the right tool for many, but odd limitations make it a hard choice over the C70 for purely video.
Which camera would you prefer?
[source: Griffin Conway]
Order Links: