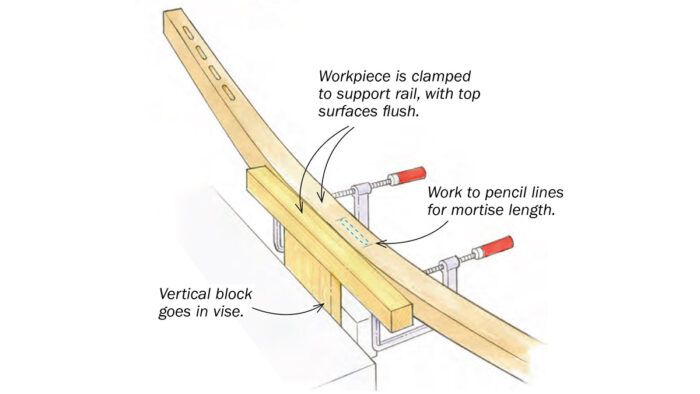 I recently built a set of chairs with lots of curves, which made it difficult to mortise some of the parts. My first thought was simply to clamp on a support rail, level with the surface to be mortised. While this would provide a wider base for the router and a reference surface for its edge guide, clamping the two together would place an obstacle in the path of the edge guide's fence.
My solution takes advantage of a new Bessey clamp, designed to fit into a T-groove in a worktable or jig. In this case, I inserted the ends of the clamps into 1/2-in. holes in my support rail, leaving a clear path for the edge guide. Clamps designed to fit into dovetail grooves will work also.
I had my solution for holding the support rail and chair part together, but I still needed an effective way to hold the whole assembly steady for routing, again without getting in the way of the router. To do that I simply attached the support rail to a vertical block, which I grab in my bench vise.
The system works wonderfully for curved chair parts, as long as there is a flat spot for registering the rail. It also works great for other complex parts, and parts too narrow to safely support the router.
Any hardwood will work for the jig, you can join the vertical and horizontal parts any way you like, and the dimensions are somewhat arbitrary. To use it you simply align the face you plan to mortise with the top face of the jig, and clamp it there. I use a standard edge guide with an extended fence, and an up-spiral mortising bit in my plunge router. The fence of the edge guide rides the far edge of the support rail, and the rail provides a broad, stable surface for the router to balance on. The Bessey clamps pivot freely in their holes, accommodating curved shapes.
—JIM CLEMENT, Winthrop, Wash.
Illustrations by Dan Thornton
From Fine Woodworking issue #294