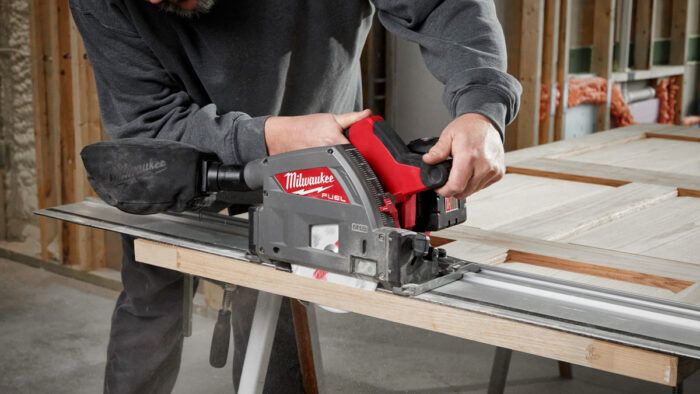 Dust Deputy 2.5 Deluxe Kit from Oneida Air Systems
SYRACUSE, NY (June 29, 2022) – Oneida Air Systems introduces the new Dust Deputy® 2.5 Deluxe Kit with everything you need to turn your wet/dry vacuum into a cyclonic super-vacuum.
The Dust Deputy 2.5 Deluxe kit—which pre-separates 99 percent of dust and debris from the airstream and virtually eliminates clogged filters and suction loss—is ideal for woodworking activities that generate dust at a rapid pace, such as sanding, sawing, jointing, and planing.
Fully assembled the Dust Deputy 2.5 Deluxe is 17.75" wide by 32" tall. Its waste container lid has an integrated vortex design which improves separation performance by preventing backdraft into the cyclone. Four free-rotating, mounted casters provide an overall stable footprint and storage of 1.5" and 2.5" diameter vacuum accessories.
Made in USA, available now at oneida-air.com, and exhibiting at IWF 2022 in booth B4735, the Dust Deputy 2.5 Deluxe (AXD250004PL, $139.95 MSRP) is sold with an anti-static cyclone, 54-inch wire reinforced vacuum hose with swivel cuffs, collapse-proof 5-gallon waste bucket, quick-release bucket lid, four mounted casters, vacuum tether kit, gasket, and hardware.
For more information, check out our video, Dust Deputy 2.5 Air Velocity Test.
---
Milwaukee announces new track saw, belt sander, and orbital detail sander
MILWAUKEE, WI – Milwaukee Tool is excited to announce the long-awaited M18 FUEL™ 6 ½" Plunge Track Saw. Driven to provide a woodcutting solution that delivers supreme accuracy and cleaner cuts on the site, this track saw exemplifies Milwaukee's relentless dedication to providing solutions that are focused on enhancing productivity. The new M18 FUEL™ 6 ½" Plunge Track Saw provides a cordless, portable solution that leaves finish-quality cuts through the hardest of wood, with over 90% dust collection.
"We are very excited to finally introduce the much-anticipated M18 FUEL™ 6 ½" Plunge Track Saw." said Tyson Apfelbeck, Vice President of Product Management for Milwaukee Tool. "This is a tool that has grown in popularity over the years and has become a must-have for the professional carpenter. Track Saws are remarkably accurate and clean with their cuts; a tool that users have been needing on the jobsite and in the shop. We developed the new M18 FUEL™ 6 ½" Plunge Track Saw to provide users with a solution that has the corded performance, with the convenience and portability of cordless."
The M18 FUEL™ 6 ½" Plunge Track Saw is designed with the power to rip solid hardwood, cutting ¼" plywood to 2" thick oak or walnut without bogging down.  With over 90% dust collection, users will have cleaner and safer work environments, allowing them to work inside a finished home or their workshop. The M18 FUEL™ 6 ½" Plunge Track Saw offers users portable precision while delivering on the performance expectations of even, finish-quality cuts.
---
"As one of the last corded tools on the jobsite, we wanted to make sure that our belt sander would be a replacement for corded power, not an alternative. We built in our M18 FUEL™ technology to ensure that the belt sander would provide the power demanded by users working on material removal," said Tyson Apfelbeck, Vice President of Product Management for Milwaukee Tool. "Paired with best-in-class dust collection and an ergonomic design, the new M18 FUEL™ Belt Sander is an effective solution for jobsite and workshop sanding."
---
The M12 FUEL™ Orbital Detail Sander provides the power to remove material up to 2x faster than traditional hand sanding solutions on the market. Its orbital sanding motion avoids scratches and gouges at a precise removal rate, leaving a stain-grade finish. The ergonomic design allows for more access to tight corners and contours, for more precise sanding. The optional sponge pad allows the abrasive to contour to the work surface when working with complex trim profiles, while the pad saver protects against excessive heat buildup to extend the life of the backing pad. As an added benefit, the sander features an LED Work Light, a variable speed trigger, and four different speed modes that can be selected for more precision sanding. The M12 FUEL™ Orbital Detail Sander has been fitted with a lock-on button for greater comfort at extended durations, while the compact size allows for efficient tool-belt storage.