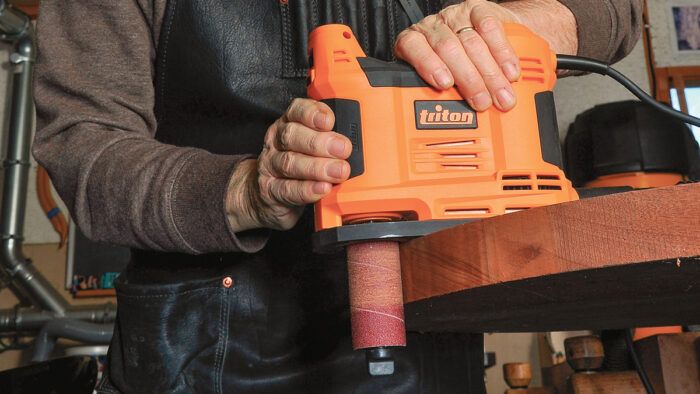 The little Triton TSPSP650 oscillating spindle sander is ideal for sanding edges on irregular-shaped parts that are too large or awkward to sand with a table-type spindle sander. The variable-speed motor provides enough power that coarse 80-grit sanding sleeves can be used fairly aggressively without bogging it down. The spindle's 1⁄4-in. of oscillation travel is enough to help clean the detritus out of the abrasive and keep the sanding action consistent. An included edge guide can be set to limit the depth of cut and better control the sanding process for a cleaner edge.
The sander can be mounted upside down on a bench with the included clamps and non-skid pad, becoming a handy little spindle sander for shaping small parts or edging tiny pieces. An adapter is supplied for attaching the sander to a standard 1-in. vacuum hose for  excellent dust control.
The spindle sizes are 1⁄2 in., 3⁄4 in., 1 in., and 1-1⁄2 in. Replacement sleeves are available. 
—R.J.