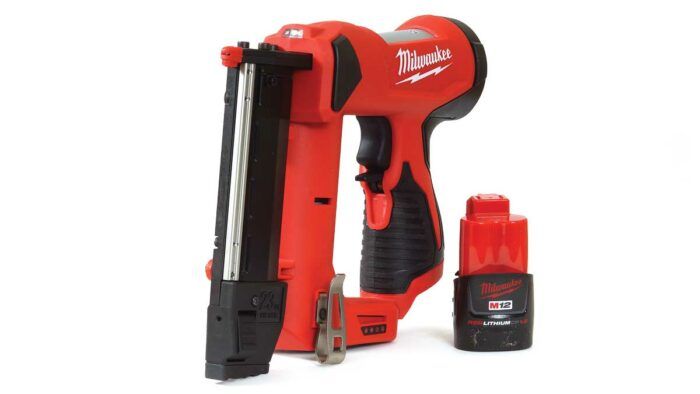 A fine-gauge pin nailer is a useful tool for fine moldings and other delicate parts; in most cases, the resulting holes are so tiny that the grain of the wood makes them all but invisible. Because I work primarily in a shop with convenient electrical receptacles, I haven't seen the need for a cordless version. There are times when a cordless pinner could be handy, such as adding trim to freshly finished work that hasn't dried completely—you wouldn't have to worry about the cord accidentally touching or dragging across the finish. It would also be an asset on a job site.
If you're in the market for a cordless one, consider Milwaukee's M12 23-gauge pinner. I tried it with 1-in. pins on cypress, a softwood; and white oak. In both cases, even on the same setting, it sank pins nicely below the surface. This tool is designed for convenience. The battery and pins are easy to load, and the safety lock operates with the same finger you use to pull the trigger. The depth of set is adjustable, there's a work light, and there's a hook for hanging the tool on your toolbelt. A gauge lets you keep track of when you'll need to recharge.
For a pinner, this model is on the heavy side, and I found the handle clunky. I have large hands for a woman and am used to using job-site power tools, but a smaller-diameter handle would be easier to work with, especially for prolonged sessions.
—Nancy R. Hiller runs NR Hiller Design.
Photo: Barry NM Dima