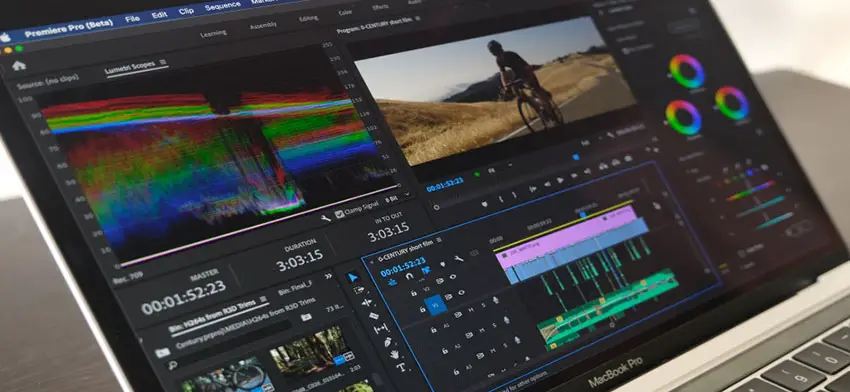 Lyrics videos are a fun way of creating a music video. A lot of top artists now actually launch lyrics videos as an additional piece of promotion for their newest albums or even the full-fledged music video. On the surface they seem super simple – it's just lyrics over top some nice, pretty footage.
This is a bit deceiving as it can take a lot of work needs to go into them to make them look good. Dave C as part of the educational Olufemii channel has some tips and tricks for making a creative and unique lyrics video without spending too much time on it.
The goal for this tutorial is to create a lyric video that is more personal and creative but also not too difficult or time-consuming to accomplish.
They actually started by getting some handwritten lyrics that definitely add a more personal touch. Best case is to use something like a drawing tablet or an iPad and to use some brushes to have the lyrics get written out. You can also just do it with a marker on paper and take a photo. 
You will then want to take these images, clean them up in Photoshop so it is just the lyrics on a transparent background saved as a PNG. Be careful here with the organization. Saving the files and naming them in proper order will save loads of time when you get into Premiere.
Moving into the NLE itself, you can start by bringing the music into the timeline. Ideally, if you can get a vocal track from the artist it can help with the process by making it easier to see when the lyrics start and stop by following the waveforms.
Going through the music you can then start making markers whenever the next lyric comes in. Now you can start bringing in the lyrics images.
Bring in your images to the timeline and make cuts whenever the next word or lyric starts, as you just marked up. With the cuts you can then go into each image and progressively mask the words to make it so that they pop up on screen when the lyric is spoken or sung in the music.
At this point, you can export the lyric video – make sure you have an alpha channel to maintain the transparency. Bring this exported clip into After Effects. This is how you can add more effects.
You can do a drop shadow and add some wiggle expressions to the opacity and position to get a bit of movement. You can even use some of the 3D effects and a camera with some additional wiggle expressions thrown in to nail the movement.
Export this from After Effects, bring it back into Premiere, and then put some clips underneath the final lyrics and you are good to go.
Do you have any other effects or tricks you would add?
[source: Olufemii]
Order Links: