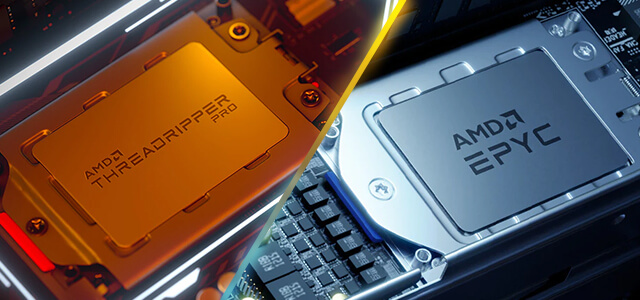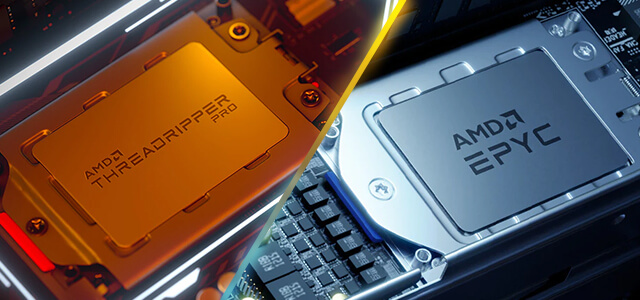 Threadripper vs Epyc – what's the difference? Though only a few years ago, AMD seemed to have been relegated to the bargain bin, they now have two excellent options for high demand workstation users, HEDTs, and HPCs. For these users, which is the best choice?
Ryzen Threadripper Pros
With up to 64 total processing cores, Threadripper is primarily positioned as a workstation platform, best suited for high demand applications like video, professional VFX, and rendering. Some of the benefits include:
Core Frequency – Unlike most high core count processors, Threadripper runs a single core Boost speed of 4.3-4.5GHz vs around 3.2 for Epyc. This gives it the advantage in both heavily threaded applications like Media & Entertainment, but also single threaded applications like CAD and architecture.
Official Windows Support – Since Epyc is primarily a datacenter platform, you'll typically find compatible motherboards without official Windows 10 support. That's not to say you can't run Windows desktop version on an Epyc workstation – we've been doing it for years on our HD360A – but rather it takes some additional knowhow to properly install working drivers. Since Threadripper is a desktop platform with full Windows driver support, it will not require any additional knowledge.
AMD Epyc Pros
Epyc is mainly known as a server platform, but because of its high core count, scalability, and overall higher I/O bandwidth, we're seeing many users running applications like Machine Learning and scientific simulations turn to the platform. Here are some of those key benefits for that user:
RAM Density/Channels – Most single socket Epyc motherboards will support up to 2TB of RAM in 8 channels, vs. 256GB in 4 channels with Threadripper. Though the extreme majority of users will never need 256GB+, that's a huge benefit for those that do.
ECC Support – The Threadripper architecture does support ECC memory, but TRX40 chipset does not, so until a chipset refresh is available, Epyc (and Threadripper PRO) are the only AMD options for full ECC support.
Scalability/Core Count –Threadripper supports only a single socket, but most Epycs support dual CPU configurations, doubling the number of potential cores to 128 and threads to 256 as well as increasing PCIe lanes and I/O capacity. This level of scalability is critical for the most CPU intensive applications or simulations.
Security – AMD's industry leading Infinity Guard is a suite of security features that provide an extra level of encryption that Threadripper does not.
What about WRX80 Threadripper PRO
AMD's Threadripper PRO with WRX80 chipset is the newest product in this category, which in some ways combines the best of TRX40 Threadripper and Epyc. From a performance standpoint, Threadripper PRO aligns closely with standard Threadripper with similar core counts and frequencies but also adds the ECC support, additional RAM capacity, and security features that Epyc offers.
Threadripper vs Epyc – Which Should Professionals Use?
The answer depends on the specific use case. Epyc's efficiency and scalability along with AMD's Infinity Guard security features make it a better fit for servers than most workstation applications. In most cases, Threadripper, with its higher core frequency and official Windows 10 support, is best for traditional workstation users and applications.
That's not to say that some professional workstation users won't see specific benefits with Epyc over Threadripper or even Threadripper Pro though. For users looking for high RAM density solutions of 256GB+ that are highly threaded enough to benefit from more than 128 threads – applications like Design and Simulation, Machine Learning, Weather, Research/Academia, and Computational Fluid Dynamics – there may be enough performance benefit to outweigh the additional expense of Epyc. But for all other workstation users in the Media & Entertainment, Architecture, Engineering & Design, or similar verticals, Threadripper just has too many benefits to ignore.
Configure our AMD Threadripper Workstation HD80A now!
The following two tabs change content below.
Josh has been with Velocity Micro since 2007 in various Marketing, PR, and Sales related roles. As the Director of Sales & Marketing, he is responsible for all Direct and Retail sales as well as Marketing activities. He enjoys Seinfeld reruns, the Atlanta Braves, and Beatles songs written by John, Paul, or George. Sorry, Ringo.