A new device called the DiGi Swap is a combination holster and app that works with old film cameras and allows photographers a rudimentary method of shooting analog bodies as if they were digital.
The DiGi Swap
Spotted by Leica Rumors, the concept of the device is pretty simple. Instead of shooting to film, the Digi Swap allows older analog cameras to instead use an iPhone as a digital sensor by perfectly mounting the camera behind the shutter and syncing the actuation with an app.
The first half of the DiGi Swap is the physical holster which is made of machined aluminum. After removing the rear plate of a film camera, the DiGi Swap attaches in its place and is able to hold an iPhone in line with the shutter. Once an iPhone is fixed in place, it works with the Digi Swap app to capture photos when the shutter is fired on the film camera. It's not clear exactly how the app knows when the shutter is pressed, but in a demonstration video, it appears perfectly timed to only capture a picture when the camera shutter is open.
The company says that it works in conjunction with the shutter of the camera and the aperture and shutter speed that are set on the camera do affect how the image is captured on the iPhone. The only setting that is adjusted from the iPhone is ISO. The DiGi Swap allows for the capture of both stills and video as well.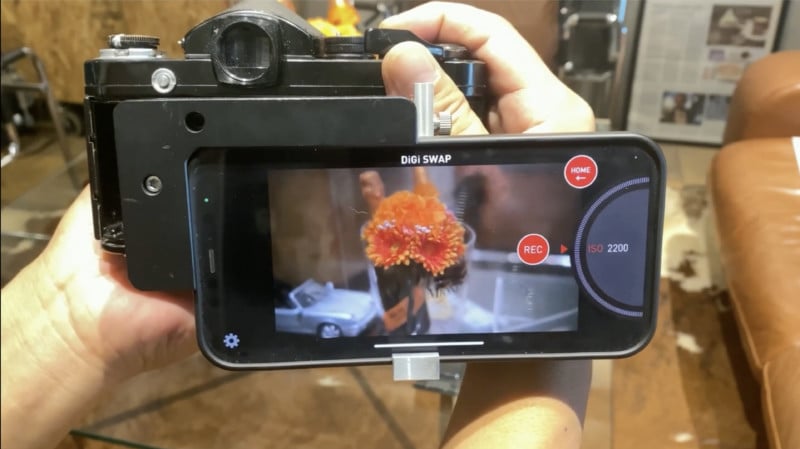 The combination of camera, iPhone holder, and iPhone looks a bit cumbersome but appears to be usable for those who don't want to work with film anymore but also do not want to just let their old cameras sit unused.
The company has published that aformentioned demonstration of the camera in use along with a few sample images (albeit very small) and vidoes captured using the DiGi Swap through vintage cameras on its website.
Will Launch at CP+ in Japan
The company calls the combination a form of upcycling as it can turn an older film camera into a digital camera. Details are still limited, and PetaPixel's repeated requests for more information went unanswered.
The DiGi Swap appears to be a concept owned by Fireworks Company which is based in Toyonaka City in Japan. The company says it started in developing and printing silver halide photos, but that business declined due to the growth of digital cameras. The creation of the Digi Swap appears to be an attempt to continue to support the idea of older cameras while simultaneously embracing modern technology.
The DiGi Swap appears poised to launch at CP+ in Japan, the annual imaging trade show that is scheduled to take place February 22 through the 27 and will be a dual in-person and online event.