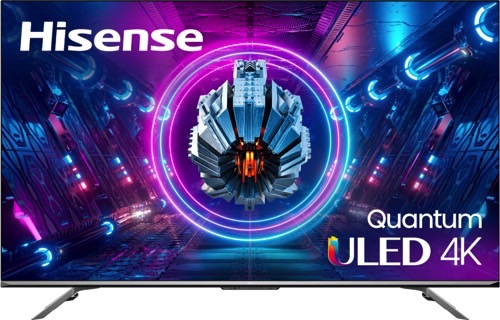 It's never the wrong time to be on the lookout for the best Roku TV: The platform was named the number one Smart TV in 2021 and is available on more TVs than ever for your streaming needs. Its clean interface makes managing your favorite apps – including the Roku Channel – a breeze, with support for everything from Alexa to Apple HomeKit.
Ranging in price from under $500 to the mid-range $1,000 sets all the way up to the $2,000-plus 8K TCL Roku TVs, there's truly a Roku TV suitable for any budget. Our choice of the best you can currently get is the TCL 6-Series, as it has the best picture quality around for its price and is packed with features such as Dolby Vision, HDR10, and HLG support. But, of course, there are many more worth exploring before you make your final decision, so let's take a look! We'll also keep you updated on any new options, like TCL's upcoming mini-LED TVs that could be a significant upgrade to your current screen.
If you're looking for a sale, take a look at some of the best TV deals.
Roku TCL 6-Series
The best overall Roku TV
Pros
Very good brightness
Excellent black levels
Sharp mini-LED backlight control
Excellent HDR color
THX Certified Game Mode
Cons
Complicated picture settings
Capped at 1440p for 120Hz games
SDR color a bit off
Why you should buy this: It's simply the best picture quality you can get for the price.
Who it's for: Gamers and film buffs who want outstanding picture quality and don't mind digging into a few settings menus to get it.
Why we picked the TCL 6-Series:
For several years running, TCL's 6-Series has been our top pick for value, and the company's 2020 model makes this Roku TV an even more compelling product. TCL's 2019 8-Series was the first TV to use mini-LEDs for backlighting, but this year, the feature comes to the 6-Series, giving it far better overall picture quality while keeping the price under the $1,000 mark.
Though its black levels and contrast aren't quite as good as the best QLED and OLED TV models, the gap has never been smaller. It's an accomplishment that is all the more remarkable when you consider the price: The 2020 TCL 6-Series starts at around $899 ($949 from TCL) for the 55-inch model.
With Dolby Vision, HDR10, and HLG support, plus a THX-certified game mode, the LED TV 6-Series has you covered for every kind of streaming video and every kind of gaming. It's also Dolby Atmos-capable. This isn't a big deal in terms of the sound the TV produces – like most TVs, the 6-Series is not equipped with home theater-caliber audio – but it is a big deal if you plan to connect the 6-Series to a Dolby Atmos A/V receiver or soundbar. Either of these add-ons will dramatically improve your audio when watching content with Dolby Atmos sound support.
This Roku Smart TV also has a voice-capable Roku remote control that lets you issue commands like "start Netflix" to control TV functions or "Tom Cruise" to search for all movies and shows that feature this actor. Alexa and Google Assistant compatibility give you access to many similar voice commands through a smart speaker if you already own one.
There are only two small caveats when considering the TCL 6-Series. First, getting the very best picture quality will require a bit of time and patience, as this TCL TV doesn't come from the factory with the best settings already in effect. Second, folks who are already looking at buying a next-generation gaming console like the Xbox Series X or the PlayStation 5 should be aware that the TV's support for 120Hz refresh rates tops out at 1440p resolution.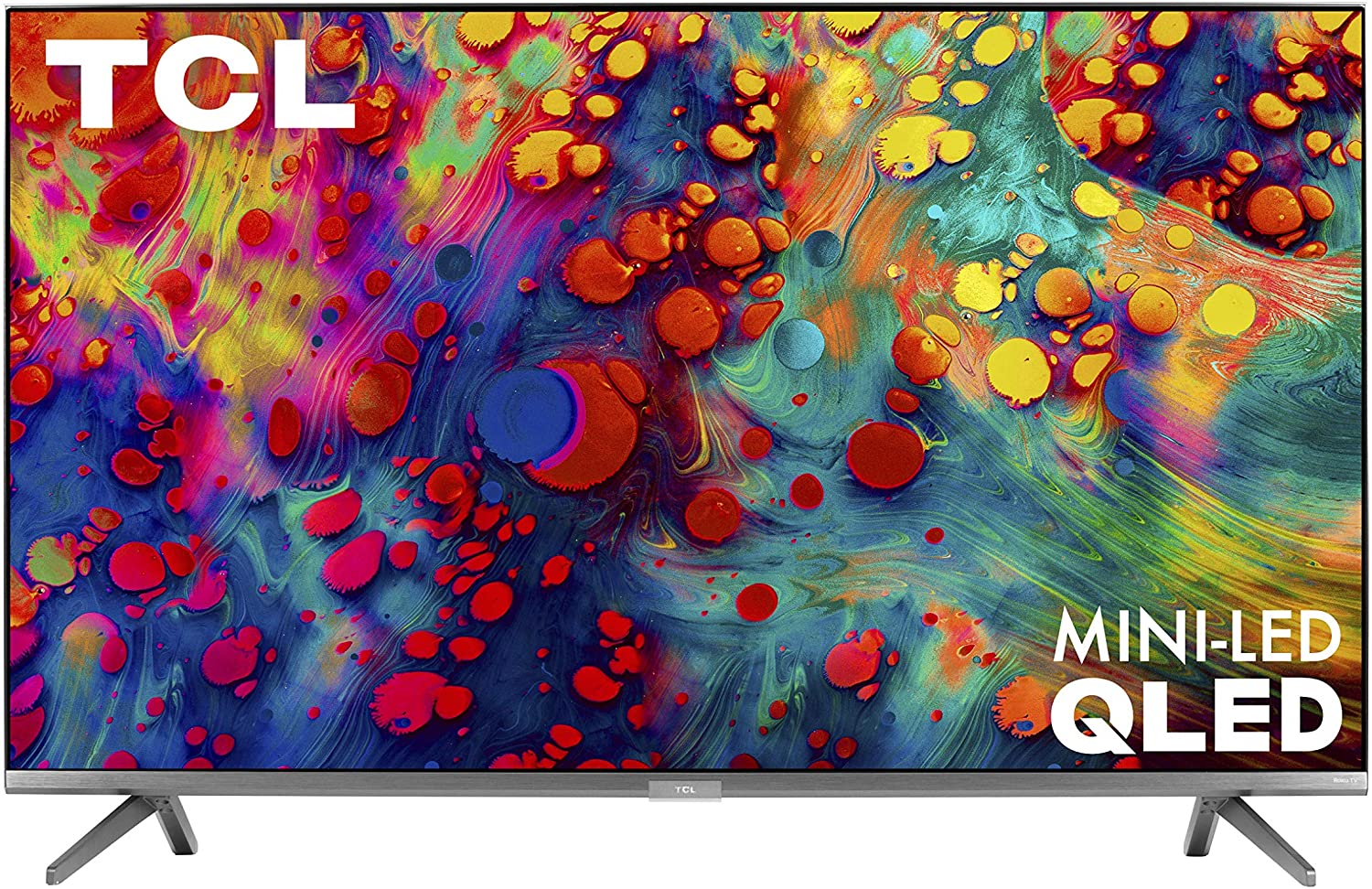 Roku TCL 6-Series
The best overall Roku TV
TCL 6-Series 8K (2021)
The best 8K Roku TV
Pros
Excellent picture quality
Surprisingly good sound
Improved Roku TV remote
Easy setup
Excellent for gaming
Cons
Poor off-axis performance
Why you should buy this: Superb picture quality for those who want a maximum resolution, and it's the most affordable 8K TV on the market.
Who it's for: Those looking for a no-compromises Roku TV with as high a resolution as possible.
Why we picked the TCL 6-Series 8K (2021):
If cost isn't as important to you and you prefer to pick a QLED with the highest resolution possible for your images, this stunning 8K 6-Series model has everything you want. It includes the latest Mini-LED QLED technology from TCL in a tight, sturdy design.
Color and shading are also impressive on this model: 240 localized lighting zones keep the contrast ratio accurate, while the AiPQ Engine supports HDR and automatically optimizes color and clarity depending on what you're watching. Note that larger sizes will benefit more from the 8K resolution: We picked a 65-inch to start for this model, but a 75-inch option is also available!
The TV supports a refresh rate of up to 120Hz and includes four HDMI ports as well as a USB. Voice command support for Siri, Alexa, and Google Assistant is also available for control playback and the smart features of the TV.
Keep in mind, an 8K TV also needs 8K content to take full advantage of the resolution, and that's not really available to consumers yet. We've seen some 8K content in things like the 2020 Tokyo Olympics, but it's not yet available on standard channels or streaming services. Think of this TCL 6-Series model as future-proofing your viewing for years into the future as 8K becomes more common. Until then, you can enjoy upscaled 4K content and more.
TCL 6-Series 8K (2021)
The best 8K Roku TV
Hisense U7G 4K HDR TV (2021)
Big picture without the big price
Pros
Impressive brightness
Solid black levels
Excellent backlight control
Great for gaming
Easy setup
Cons
Poor off-angle performance
Potential dirty screen effect
Why you should buy this: It's a well-priced, big and beautiful 65-inch 4K HDR TV with all the benefits of the Roku platform and all the features of more expensive Hisense models.
Who it's for: Those who want big picture and quality that compete with the larger brands at a better price.
Why we picked the Hisense U7G 4K HDR TV:
These days, a larger display size doesn't always mean that you have to empty your wallet to afford it. This Hisense model goes beyond and proves you can also get an excellent display, with its Quantum ULED 4K panel that offers better brightness and black levels than we've seen on Hisense TVs before.
Offering a spacious 65-inch screen at a very affordable sub-$1,000 price, this Hisense U7G TV also comes with Dolby Vision and Dolby Atmos support for optimization, as well as support for HDR10+. That combines very well with the impressive 1,000-nit peak brightness option. Smart home fans will also appreciate compatibility with Google Assistant and Alexa for controlling basic functions or looking something up on the smart TV platform.
All these [Hisense U7G 4K HDR TV features are excellent for general viewing, especially with content that offers HDR or Dolby Vision upgrades. But gamers will find several other specs particularly appealing: The native refresh reaches 120Hz for smoothing gaming action, with a variable refresh rate (VRR) mode for automatic optimization. There's also a low latency mode and FreeSync Premium, which makes this TV a great pairing for a console.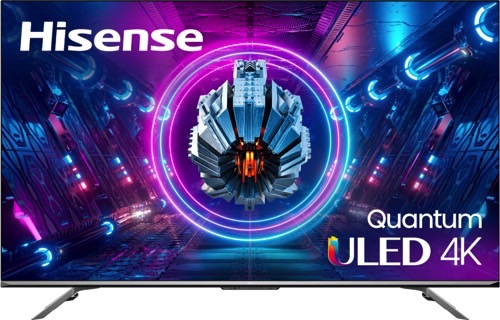 Hisense U7G 4K HDR TV (2021)
Big picture without the big price
TCL 3-Series 32S335
Roku TV at a Rock-bottom price
Pros
Compact size for smaller spaces
Easy-to-use Roku OS
Cons
It's only 720p
Could be brighter
Why you should buy this: It gives you all the benefits of a Roku TV at a rock-bottom price.
Who it's for: Those who want the simplicity of a Roku TV but want to keep things as affordable as possible.
Why we picked the TCL 3-Series 32S335:
If screen size isn't an objection, you can save a lot of money by downsizing to a 32-inch screen while still getting all the TV features you want, including built-in Roku support. That makes this  Roku TV model a great pick as a secondary TV (say, in the kitchen or bedroom), or a TV you will be relatively close to and don't need anything much larger (like in a loft or dorm).
The TCL 3-Series 32S335 model includes dual-band Wi-Fi for your wireless connection, three HDMI 2.0 ports for managing multiple devices, Optical Audio out, Composite, and a USB-A connection if necessary for your media player. The TV also works with Alexa and Google Assistant, so you can give voice searches or quick volume commands without needing a remote (not all Roku features will be supported by voice command). The only downside for this extra-affordable TV is that the resolution only reaches 720p, but this isn't as much of an issue if you're going too close to the display.
TCL 3-Series 32S335
Roku TV at a Rock-bottom price
TCL 4-Series 50S435
The biggest size for the best price
Pros
Roku OS easy to use
Great 4K value for the size
Ample inputs
Cons
Sound options could be better
Lacks Dolby Vision
Why you should buy this: This larger TCL model is still a very affordable pick.
Who it's for: Those who prefer a larger TV for their primary entertainment zone, but still want to save a lot of money.
Why we picked the TCL 4-Series 50S435:
While our Series-3 pick above is the perfect model for those who want to save as much money as possible, especially for a second TV in a new location, it may be too small for those looking for a primary TV that the whole family can easily watch. This Series 4 model solves that problem with an upgrade that includes moving to a 50-inch screen that's fit for the living room – while still being affordable enough to fit into smaller budgets.
Of course, that's only the start of what this Roku-enabled TV brings to the table. It supports 4K resolution and HDR optimization so you can enjoy an excellent picture with all compatible sources. Ports include three HDMI 2.0, including one with ARC compatibility, one USB connection for a media player, and an Ethernet port. Like our other TCL pick, this model also supports voice assistants like Siri, Alexa, and Google Assistant.
TCL 4-Series 50S435
The biggest size for the best price
Research and buying tips
What TV brands is Roku available on?
For several years, Roku in North America has primarily been built into TCL and Hisense TVs, which is why they are dominating our list. However, there are signs that things are starting to change. For example, at CES 2022 Hisense announced a number of new TVs with its "Laser TV" technology, but all of them were on the Google TV platform, and Roku wasn't mentioned at all, signaling that Hisense may be leaving Roku behind. On the other hand, Roku has recently announced a new partnership with Sharp, with 4K TVs set to be released in 2022, which means newer Sharp models could soon end up on our list to provide an interesting alternative. We'll keep you updated on the details as they come.
What should you consider before buying a new television?
It's always a good idea to start with your budget and how much space you have for a new TV (remember, screen size measurements generally refer to the diagonal length on TVs). Our guide here focuses on the Roku TV platform. If you don't need a smart TV platform – for example, if you use the interface on a game console or set-top box – then this isn't much of a consideration. But if you will be using the smart TV platform, it's a very important choice. Google TV, for example, is a common alternative to Roku TV. Take some time to look at interfaces and think about what you want! After that, it's time to think about panel types, such as QLED versus OLED, resolution, and other important specs. Check out our TV buying guide for more information.
When and where can you find the best deals on Roku televisions?
We'll make this one easy for you: Check out our guide to the latest Roku deals. We keep it constantly updated so you know exactly what discounts look like!
What features should you look for when purchasing a Roku television?
Mini-LED and QLED are great panel features to look for that will optimize your visuals. We also recommend a 4K resolution (8K is possible, but there's just not much 8K content yet). Size is up to you and your space, but if you really want to appreciate the detail in that 4K resolution, we suggest not going lower than 40 inches unless you are going to be very close to the TV.
What is the difference between Roku TV and Apple TV?
Thinking about the differences between Roku TV and Apple TV? There are several things you should know, so let's go over them:
These Roku TVs have Roku's user interface as a built-in platform. The Apple TV is a separate set-top box device that connects to a TV – there are no TVs with Apple's tvOS built-in (at least not the same way). Roku has its set-top boxes as well, but the advantage of these TVs is that you don't need another Roku streaming device.

Apple TV is a streaming device generally designed to supplement an existing TV, doesn't need a smart TV to work, and can easily be moved between TVs, which is an advantage to using a set-top box versus a built-in platform. You will need an HDMI port to connect it.

If you're an Apple fan, there's some good news: Roku TVs generally support the Apple TV app, which allows you to stream Apple TV+, so you can still watch Apple shows.

However, features like Apple Arcade and Apple Fitness only are available on an Apple TV set-top device, so there are some limitations there.
Do you have to subscribe to Roku to use a Roku TV?
No, the Roku platform itself is free to use. You can still stream from apps like Netflix, Amazon Prime Video, etc., without worrying about having to pay a Roku fee (as long as you are managing subscriptions for those individual services). These days, Roku doesn't offer much in the way of subscription services, so it's unlikely you'll ever have to pay Roku an ongoing fee after you have purchased your TV or device.
Can you watch normal TV on a Roku TV?
Yes, although that depends on what your definition of normal TV is. You can connect your TV to a receiver, set-top box, or cable box and watch TV that way, just as you would with any other TV. You can also connect an antenna and watch any free channels that you can pick up in your area. There is no requirement to use the Roku platform itself unless you want to stream apps and channels directly from your TV.
What channels on Roku are free?
The first place you should go for free streaming content is The Roku Channel. Roku offers most content on this channel for free and includes a broad amount of content, from kids' shows to popular movies of decades past. There's some premium content on this channel that you have to pay for, but the majority of it is free to watch. Roku also supports other apps that don't require a subscription, including popular options like:
Crackle
Pluto TV
Tubi
Xumo
And plenty more to try out. However, the popular third-party streaming apps – Netflix, Disney+, etc. – that require subscriptions to watch will still require fees when used on Roku. You will need to sign in your account information when first opening these apps.
Editors' Recommendations