We exist in a constantly churning sea of content: there were 1.4 trillion photos taken in 2021 and an estimated 1.6 trillion shutter buttons will be pressed this year. With so many taken, where is the best place to share photos?
In 2021, the total number of photos stored — from those on smartphones, to those in the cloud, to photos on personal computers — hit a whopping 8.3 trillion. To put that in perspective, if you took a single photo every second, it would take almost 32,000 years to get to one trillion photos.
Every day, over 95 million photos are posted to Instagram alone and more than 300 million photos get uploaded across all platforms. Deciding when and where we should inject our own work into this limitless space is as important as it is frustrating to nail down.
You may well be reading this on a phone capable of taking photographs your grandparents would believe impossible in quality and detail. You can take a picture of anything you want. But where do you put it once you've taken it?
What We're Looking For
Not all photographers are created equal nor are all captured photographs meant to leave your smartphone's gallery, but a great many photographs are intended to be viewed. We have compiled a list of popular photo-sharing sites, each with certain strengths, drawbacks, and unique areas of focus. We want to showcase the showcases, and hopefully identify the ones that are right for you.
You won't find Instagram on this list, since by its own admission the company is not a photo-sharing service; Instagram will be about video and shopping soon. If the company itself doesn't categorize itself as one, why should we? Besides, you know about it already. Let's show you a few you might not be thinking about.
500px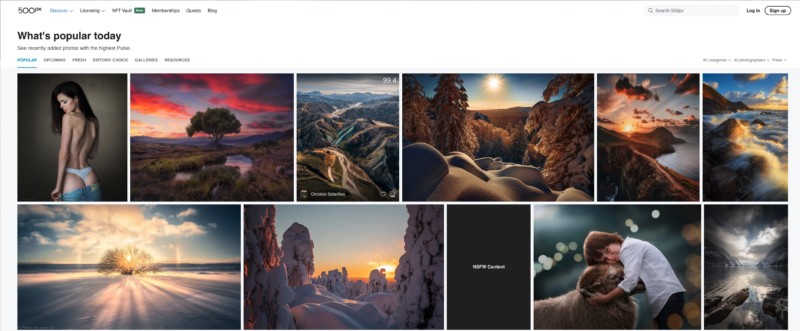 An entire list could be populated by Instagram, Facebook, Imgur, and the like, all geared toward the most casual of users. There is nothing wrong with this, as we all have different needs and goals for our photos. For professionals, though, the list shrinks considerably. Within that smaller circle of options, 500px stands out.
From the design of the site itself, it is clear where 500px's focus lies: the photos are massive, uncrowded in the view, and unbothered by fussy controls and unneeded features. The user interface seems crystal-clear in its intentions and allow the photographer to arrange their work into "Sets" keyed in on a specific theme, or "Stories" centered on a specific event or location. More than letting photographs speak for themselves, they allow them to speak together for the artist.
Without spending a dime, you can upload 2,000 photographs to 500px, but the drawback is this comes with a steep constraint. For unpaid users, twenty images a week is the ceiling on your uploads. Fortunately, for a reasonable fee users can upgrade to varying tiers that offer even more functionality and unlock further access. These are options well worth exploring, especially considering how frequently the site runs discounts for these subscriptions.
What makes 500px a true site for professionals, however, is the ability to access a directory of working pros, market yourself by showing yourself as for hire to other users, track deep stats on your work's performance, and, most crucially, license and sell your work, earning what they claim to be one of the highest royalty rates in the industry thanks to its parent company VCG, the Getty Images of China.
Serious photographers would do well to spend some time on 500px and see if it suits them. The site is perpetually growing and attempting to accommodate new trends, as evidenced by the recently added NFT Vault.
Behance
For photographers looking for more of a creative social network, hoping to showcase a specific set of photographs, Behance is worth a look. The site is free and comes with no limits on the number of projects or images one may share. If you have a new collection that you are particularly proud of, Behance is a fantastic option, both for acquiring eyes and highlighting your skill for networking purposes.
Set up like any social media site, with the ability to follow other creatives and their work, and offering likes and shares, Behance holds a few key features that are incredibly appealing. Similar to Instagram's Stories feature, Behance gives users the ability to share works in progress, so you and the contacts you have made can not only appreciate each other's final output but follow along in the process, offering support and feedback.
Additionally, Behance is an Adobe offering, and as such has a simple, attractive pipeline for Adobe users from the act of creation to the end result of sharing.
Flickr
There is no serious photo-sharing site online with the name recognition, tool selection, or fluid user interface of Flickr. It is unlikely you are at all surprised to see its inclusion, and that lack of surprise is fully warranted, even so many years after the website hit peak popularity.
With a free subscription, users can upload up to 1,000 photographs which is more than enough for most casual users, and even serious hobbyists. The site's tagging features are extensive and the ability to view and download images at multiple resolutions is invaluable.
For those showcasing their work with an eye toward tracking the popularity of their photographs, Flickr's stats engine provides an incredible amount of information on who is viewing your work and when.
The ability to easily embed photos via your Flickr account to, for example, your own website has long been an excellent feature of the site.
Since being acquired by SmugMug in 2018, some changes have been made to the classic Flickr users know and love, particularly in terms of subscription fees that provide features aimed at power users, but we find these fees entirely reasonable, and, for professionals working in higher resolution, vital. One feature of note is that with a Pro subscription, a user receives two months of Adobe Creative Cloud for free.
Google Photos
While this list is not focused on storage so much as sharing, it would be criminal to ignore a service as stable, functional, and near-universal in usage as Google Photos. It seems impossible one would not already possess a Google account, be it for email, YouTube, or any number of other reasons, so why not make the most of what you already have?
Google Photos was initially designed as a safe online backup for your photos, but as time has gone by, the service has matured and offers robust sharing capabilities. Organizing your work into albums with full privacy controls, not only over who may view but also who may download your images, is incredibly valuable and gives friends, family, and peers the freedom to add your work to their own albums that can then be shared. All of this is provided with no limit on the number of photos you may upload, which makes Google a reliable standby when considering the best options to share your work privately.
Photobucket
The Photobucket name may be as old as Flickr's (the two sites began within a year of each other), but its reputation somewhat lags behind its contemporary. A good deal of the chasm between the two hinges on performance for free subscribers. It is no secret that Photobucket, as a free service, can be grating thanks to an overabundance of annoying ads and that the site's 250 photo limit is frankly paltry when compared to the competition.
Unlocked through its higher and paid tiers, however, the site begins to come into its own and its graces begin to outstrip its demerits. At the Expert level, for around $13 a month, photo uploading is unlimited, ads are gone, and you can enjoy the full suite of Photobucket's rather robust editing tools. The once-cluttered interface, at this level, ranks among the cleanest and most intuitive on the market. Selling your prints via Photobucket is a breeze, offering the option to purchase your work in multiple formats across many different mediums.
Like Flickr, the site also allows you to embed your photos anywhere from forums and websites to blogs and social media. Photobucket also emphasizes its low-compression and lack of image manipulation such as automatic sharpening as one of its key features to preserve the original image's quality.
Photobucket, when used properly at the appropriate tier, really does make a case for a top all-in-one solution. Again, online storage is not the purpose of this list, but we would be remiss to not to consider it as an added asset here given the extensive privacy controls and upload capacity it offers. At the highest subscription tier, Photobucket truly can house, showcase, and monetize your work at a level few other can.
VSCO
No list of photo-sharing sites would be complete without giving attention to the way the majority of folks view photo sharing – a purely fun, showy, and social activity, handled through an app. Instagram needs no further ink spilled in this regard — we are all on it already, right? It may stand alone in terms of ubiquity, but it has, over the years, faced a number of competitors. While none have succeeded in overtaking it, there is one Insta-alternative that set itself apart from the start and continues to find success and adoption nearly a decade later: VSCO.
For casual users, and even some pros who like to use their phones for practice or just to show off, VSCO is without parallel. From appealing presets to editing features that fine-tune with more precision than you would expect, VSCO shines as a classier alternative to the Facebook/Meta-owned giant you are used to.
It is a remarkably attractive app: clean and sleek, laid out in uncluttered grids showcasing images against black backdrops, which allows them to truly pop. It is no wonder that many photographers have chosen VSCO as their photo-sharing platform of choice.
I know many non-photographers who use VSCO exclusively to edit their phone snapshots before sending them out to other social media sites, and many even use VSCO as the first step before Instagram.
What some might consider a con — VSCO's reliance on in-app purchases, for presets and editing tools — I consider a definite pro. It is precisely through this monetization that the developers have been able to continually update, stabilize, and add features to an already impressive photography app.
The most purely social entry on the list, VSCO may not feature the subscriber count of its super-massive peer, but the percentage of users who truly value photography there is much higher. If your goal is to toss off a few lovely photos while thumbing through higher quality captures than your typical social media site, VSCO is where you want to be.
---
Image credits: Header photo licensed via Depositphotos.