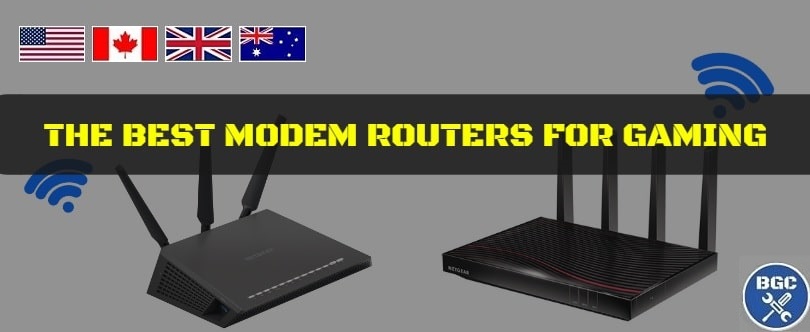 Home > Gaming Routers > Modem Router Combos
Top Recommended Modem Routers for Cable Internet or VDSL/ADSL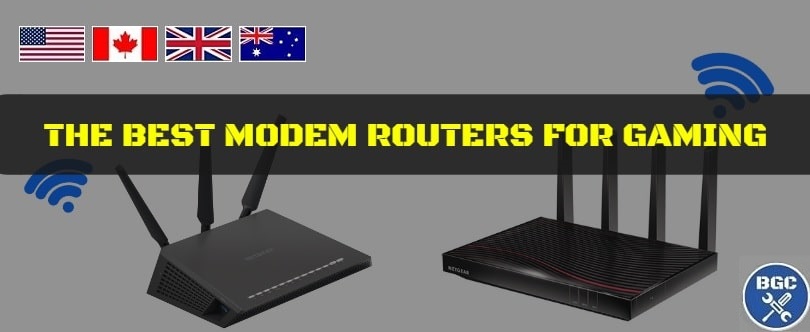 Published: Mar 5, 2019
In this guide to choosing the best 2019 modem router combo for gaming on PC we'll cover our current top value picks in the US, Canada, UK and Australia to help you buy a good modem router as a gamer with a need for speed (and reliability). We'll also explain the specs and features you need to know about.
Should you buy a modem router combo though?
Good question, 'cause they're not for everyone. When setting up a network for online gaming you basically have three choices:
Just get a modem by itself

if you only need wired LAN, and 

get a network hub/switch for your modem if you need to run multiple Ethernet ports as basic modems will just have one LAN port (cheapest option)
Get a modem AND a separate router for wireless (most common home setup)
Get a modem router combo device that kills 2 birds with one stone black box
If you're gonna roll with #3, this is the guide for you. Using a modem router combo has its potential downsides as explained in more detail in our guide to routers vs modem router combos, such as being less flexible overall compared to having a separate modem AND separate router, but they're convenient and might be just fine for your particular setup.
That being said, if you want/need a combo device it's easy to get overwhelmed when choosing the right model to buy as the specs can be quite confusing, and the way they are marketed usually doesn't help either.
We've done the extensive research for you as usual here at BGC, and below we'll breakdown some of the best modem router combos for gaming in 2019 based on our careful analysis of the current market from the perspective of an online gamer allergic to lag and wanting something reliable and value for money.
We'll cover both the best cable modem router combos and the best VDSL/ADSL modem router combo, but if you're a serious gamer you'll likely have a cable internet plan (if you know what's good for you) and so we'll provide multiple recommendations for cable modem routers in different price categories (compared to just the one top recommendation for the best VDSL/ADSL modem router).
Remember that while we always do our due diligence and value attention to detail quite highly on our quest to always bring to you the most reliable product recommendations, always do your research to ensure any particular modem router is compatible with your service provider, has the speed you need, features you want, etc.
For example, there's no point spending a lot on a super-fast high-end modem router if you don't have a fast-enough internet plan that will actually get to those speeds in the first place (well, unless you want to future-proof, but again remember that modem routers will only support certain providers so keep that in mind too). Enough beating around the bush and let's dive into our top recommended 2019 modem routers for PC gaming.
See Also: Choosing the Best Wireless Adapter for Desktop (PCIe vs USB)
---
Comparing the Best Modem Router Combos for Gaming

Confused about the specs below? Hover over the
icon below for a quick overview of that feature.
Swipe to Scroll the Table:
* Specs listed above are based on our US picks: specs may vary for our recommendations for Canada, UK or Australia as might recommend another model for these countries if the US model isn't also the best pick for that particular country
---
The Best High-End Modem Router for Cable (Under $400)
Netgear Nighthawk X4S C7800 Cable 

Modem Router



If you want the absolute best gaming modem router combo available right now, the Netgear Nighthawk X4S C7800 Modem Router is hard to beat and our top recommendation for serious gamers and power users assuming you have high-speed Xfinity from Comcast or Cox which are the only US internet plans officially supported by this device.
As you expect for the premium price it has everything you need for the best wired or wireless online gaming experience through either the 4 LAN ports or the 802.11ac WiFi which supports AC3200 wireless speeds (which means a total of up to 3200 Mbps of combined speeds from both the 2.4Ghz and 5Ghz bands – real-world speeds will differ)
The 4 antennas improves the signal strength and reliability in larger houses, it's got a powerful (for a modem router) 1.5GHz built-in processor, and has 2 USB 3.0 ports on its side for those of you wanting to store and stream your own media. If you have a super fast plan and want the best of the best to prevent your online gaming connection from being limited in any way, investing in this beast may be worth it to you, but it's definitely not necessary for most gamers so do your homework on whether you actually need a top-tier model like this.
The Asus CM-32 linked below is also well worth considering if you're after the very best modem router combo for gaming, and it's not just cheaper but also supports more providers, although it does have a slightly slower total maximum speed (AC2600 compared to the Netgear's AC3200).
Pros

Best quality modem router combo available for serious gamers, streamers and pros

Extreme wired speeds of up to 6Gbps

High-end WiFi speeds (AC3200)

Great range for large houses

2 x USB 3.0 ports

Cons

Only officially supports Xfinity from Comcast or Cox (for US buyers)

Modem not voice compatible

Overkill for some
Honorable Mention:
ASUS CM-32 Cable Modem Router Combo (AC2600, 4 Ethernet Ports, 2 x USB 2.0 Ports, Beamforming)
---
The Best Mid-Range Modem Router for Cable (Under $200)
Netgear Nighthawk AC1900 C7000 Cable Modem Router
The Netgear Nighthawk AC1900 C7000 is hands-down one of the overall best gaming modem router combos on the market right now in terms of quality and features for the money, and the device we'd suggest for gamers and other demanding users wanting super-fast WiFi and cable in the one device.
The more expensive Nighthawk X4S C7800 above isn't necessary unless you have an extreme cable plan of 1Gbps or faster, but for us mere mortals with speeds of under 1Gbps (which is still blazing fast and enough for flawless gaming mind you) then this Nighthawk AC1900 C7000 model is all you need.
It supports plans from Comcast, Cox, Spectrum, Time Warner & Cablevision, has 4 Ethernet ports as any respectable router really should have, and the wireless quality is solid with the router supporting the latest 802.11ac WiFi technology (dual band 2.4GHz and 5.0GHz support for anyone wondering), the range being decent, and the speed being AC1900 which is more than enough for most people.
It doesn't support voice services that may come with your cable service which is what happens when you deviate from the default-provided devices, but most gamers and users won't need this feature anyway. Overall, we highly recommend the Netgear Nighthawk AC1900 C7000 modem router if you want a fast, high-quality combo unit for online gaming and high-speed general use that's not too expensive and that doesn't sacrifice on features. It also looks pretty cool for a modem/router, as many Netgear networking products do, and yes it can be wall-mounted if you like.
Pros

Best overall value modem router

High speed cable up to 960Mbps

Very good WiFi speed and stability

Good range for medium to large houses

4 LAN ports

Support for many major providers

Cons

Not suitable for Gigabit+ speeds

Not voice compatible

No USB 3.0 support (only USB 2.0)
---
The Best Cheap Modem Router for Cable (Under $100)
Netgear N600 C3700 Cable Modem Router
Netgear, again? We can only suggest what we objectively think is best for most people at this point in time, and Netgear wins overall in this price category as well (IMHO). The Netgear N600 C3700 Modem Router is a great choice if you need a solid combo device but either want to keep your investment under 100 dollars (US) or you don't have very high internet speeds on your service anyway (and therefore a more expensive modem router isn't needed).
This one supports speeds up to 600 Mbps (technically 300 + 300 Mbps across both its bands). It's router has 802.11n wireless technology, which isn't as fast or far-reaching as the latest 802.11ac, but you get what you pay for although the truth is this previous WiFi standard can still get good-enough speeds and range to please many people. You don't absolutely need an 802.11ac router to get a reliable, fast connection for flawless online gaming, and a decent 802.11n setup is going to be okay for most people even in 2019 (unless you're super picky or have higher than average demands for your home network in which case you should really consider spending more on a 802.11ac router).
Overall, the N600 mdoem router is a great option to consider when on a budget and you don't need something too fancy. As a gamer, it's all you need if you're gaming online via wired Ethernet (as you ideally should for the best stability/reliability), but yeah, if you're doing hardcore competitive gaming or streaming via the WiFi instead of via Ethernet (either out of necessity or a strong urge to be free of cords), definitely do all you can to get a 802.11ac modem router such as the Nighthawk recommended above for the best experience.
What is the difference between the n300 and n600?
You may be wondering about the Netgear n600 vs the Netgear n300 which are very similar products. Simply put, what's different about these two modem router combos is the n600 has dual band wireless capability in its router whereas the n300 only has a single band. What's single and dual-band WiFi? A single-band router only uses the 2.4Ghz frequency, whilst a dual band uses both 2.4Ghz and 5.0Ghz frequencies for stronger performance. We highly recommend getting a dual band setup in 2019, as single band technology is real outdated now and not something we can suggest to gamers.
Pros

Best cheap modem router combo for gamers

Good speeds (up to 340Mbps)

Support for many major providers

Cons

Not 802.11ac wireless (ie not the latest & greatest)

Not suitable for 4K streaming and other heavy use

Only 2 LAN ports

Not ideal for larger houses
---
The Best Modem Router for VDSL/ADSL (Any Budget) 
Netgear Nighthawk AC1900 D7000
Now this is getting ridiculous – all 4 of our top recommended modem routers are Netgear. Not planned in the slightest when starting this guide but after our market analysis and researching all the top models out there right now (based on both consumer and professional reviews), these are simply our honest, objective selections that we would personally recommend for each category and it just so happens that all of them are Netgear products.
Although this shouldn't be too surprising as they are one of the premiere, most reliable overall brands when it comes to networking after all. If you're NOT using cable internet (not to be confused with wired LAN/Ethernet), and you're looking for a good modem router for VDSL/ADSL instead, the Nighthawk AC1900 D7000 is a very solid choice.
Although keep in mind this model doesn't support bonded VDSL (a feature that combines 2 VDSL2 lines into a single connection which allows for faster speeds), nor does it support Comcast Xfinity, Charter, Time Warner, Cox. The AC1900 speeds, which means up to a theoretical 600 Mbps on the 5Ghz band and up to 1300 Mbps on the 2.4Ghz band, is going to be fast enough for most gamers, and it's got 4 LAN ports too.