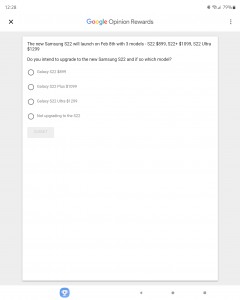 Yesterday we heard that the Galaxy S22 series will cost the same as last year's models in Europe. Today we're hearing that US buyers are facing a $100 price hike across the board. The info comes by way of @TechInsider and @chunvn8888 and is backed up by a survey that was shared on Reddit.
We compiled a table below that compares the Galaxy S21 generation with the upcoming S22 models. Note that the Galaxy S22 Ultra will likely start with 8 GB of RAM instead of 12 GB like last year's Ultra, although that may not be the case for the US model, given the higher price. The S22 and S22+ should keep their memory configurations the same.
2021

2022




Model

Storage

Price ($)

Price (€)

Model

Storage

Price ($)

Price (€)




Galaxy S21

8/128 GB

$800.00

€850

Galaxy S22

8/128 GB

$900.00

€850




Galaxy S21+

8/128 GB

$1,000.00

€1,050

Galaxy S22+

8/128 GB

$1,100.00

€1,050




Galaxy S21 Ultra

12/128 GB

$1,200.00

€1,250

Galaxy S22 Ultra

8?/128 GB

$1,300.00

€1,250






It's not clear what pre-order goodies and trade-in deals Samsung will offer this year, but they better be good to make up for that extra $100 on all three models. For the S21 series Samsung offered up to $200 credit and a free Galaxy SmartTag in the US (and Galaxy Buds Live + SmartTag in Europe).
Here's a screenshot of the survey. Unfortunately, it makes no mention of pre-order goodies.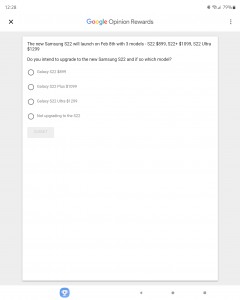 A survey that seems to confirm the rumored Galaxy S22 prices
The Samsung Galaxy Unpacked seems to be scheduled for February 9 (Samsung is yet to officially confirm the date). Besides the phones, it will bring the new Galaxy Tab S8 series of tablets as well. The euro pricing for those has also leaked. For the US the base Tab S8 is expected to start at under $850, the Tab S8+ at $900-$1,000 and the flagship Tab S8 Ultra at $1,100 or higher.
Source 1 | Source 2 | Via | Image credit