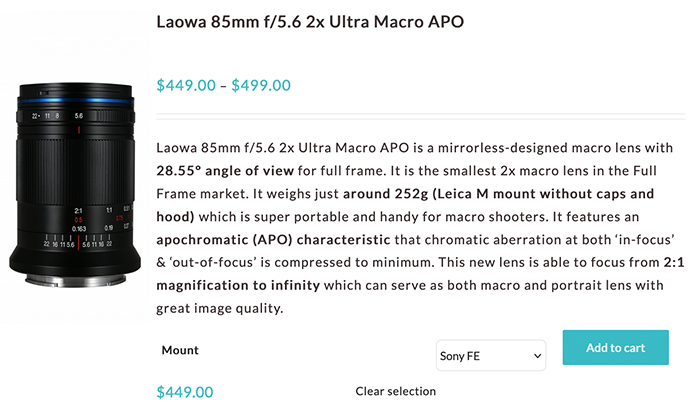 You can preorder the lens at BHphoto and Venuslens.net
Opticallimits tested the new lens on the Sony and concluded:
The Laowa 85mm f/5.6 2x Ultra Marco APO is a good lens. It delivers a predictable performance across its aperture range. At medium aperture settings, it's pretty sharp without being truly outstanding. Diffraction takes its usual toll at small apertures and it's advisable to avoid f/22 at least. That's also a good idea because of CAs. They are very low up to f/11 but increase beyond – albeit not to a worrisome degree. Image distortions are basically absent as they should be with a macro lens. The quality of the bokeh is a bit of a mixed back. Out-of-focus highlights aren't ideal whereas the out-of-focus transition zone is rendered nicely.
The build quality is perfectly fine with the usual caveats of an all-manual lens. The lens body is made of metal including the lens hood and we especially like the inner focusing system. On the downside, there's still no electronic coupling thus you'd have to live without AF, EXIF data, and no camera-controlled. This is not a drama for a macro lens but it's hindering Laowa from entering the mainstream market.
The question of the day is probably where to find the niche for this kind of lens. Its primary value proposition is the minimal size and low weight. Some may also appreciate the ability to focus down to a maximum magnification of 2:1. If these are your priorities, you may accept the lack of speed and the all-manual nature. At almost $500USD, we wouldn't call it a steal though.