It's no secret that game streaming is huge business these days, with tons of streamers trying to set themselves apart from the competition to show off their talents and build their audiences. One great way to do that is with a dual PC streaming set up – essentially using two separate PCs, one for gaming and the other for broadcasting – to maximize performance. The process to configure this type of setup can be a little tricky, so we've put together this handy guide to help.
Why Dual PC Streaming
Gaming alone can stress even high end, current gen PC hardware, so adding streaming to the mix and all the running programs that can entail on one system can be especially taxing, unless of course you're working with a serious multi-core system. The end result can be a laggy gaming experience that doesn't reflect well on your gaming prowess. To solve this, many of the top streamers are beginning to use a second PC to broadcast their stream, runs OBS, their bots, etc, leaving the first PC to focus solely on producing those eye-popping frame rates that gamers love. Oftentimes, this is easier/more cost effective than replacing your current PC with new, more extreme hardware.
How to Configure Dual PC Streaming
The easiest way to configure a dual PC streaming set up is by using a capture card to capture the gaming output (both video and audio) and pass that onto the streaming system to send off to Twitch. This essentially treats the gaming PC like a console dedicated just to your game. You'll want the PC with the more powerful CPU to act as the streaming system and the one with the more powerful GPU to run your games. The diagram below should help.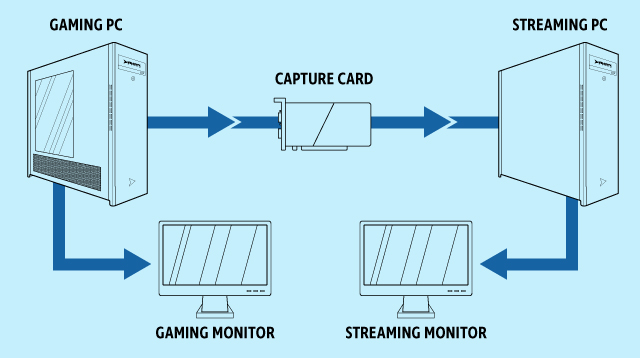 Hardware You'll Need
For Dual PC streaming, you'll need:
Two PCs, one more GPU intensive (gaming), preferably with NVIDIA RTX 3000 graphics and the other more CPU intensive (streaming), preferably with a multicore processor like Intel Core i7 or AMD Ryzen 5000. Our team can assist with configuring two systems that will be optimized for your needs and budget, but our Raptor Z55 is an excellent starting point.
Two monitors (or more) since you'll need at least one display for each PC.
Capture card – This is the hardware that "captures" the info from your gaming system. We like the El Gato HD60 Pro as an internal solution. This goes in the streaming box. You can buy that here from Amazon.
Dual PC Streaming Step by Step Guide
To correctly configure your two PCs for streaming, there is some work to do coordinating displays:.
First, download and install your streaming software (OBS, SLOBS, Xsplit, etc)
Plug the HDMI cable from your gaming PC into the "in" on your capture card
On the gaming system, Right click the desktop and select Display Settings. Make sure the streaming system's capture card shows as a duplicated display from your main gaming monitor
On the streaming system, open your installed streaming software and add the capture card as a streaming source. How to do so will vary depending on your app, so check with the developer for assistance with that.
Verify that your gaming display shows in the preview window of your streaming software.
Audio should come through to the streaming PC via HDMI as well, but verify that is has before proceeding.
And now you should be up and running, ready to conquer the streaming landscape. Good luck!
The following two tabs change content below.
Josh has been with Velocity Micro since 2007 in various Marketing, PR, and Sales related roles. As the Director of Sales & Marketing, he is responsible for all Direct and Retail sales as well as Marketing activities. He enjoys Seinfeld reruns, the Atlanta Braves, and Beatles songs written by John, Paul, or George. Sorry, Ringo.