Regardless of what types of movies and shows we like to watch, what time of day we like tuning in, and who we share the screen with when it's time to zen, the simple fact remains: We all want a great TV (or four).
2022 is sure to be an exceptional year when it comes to the new TVs slated to hit the shelves. Some standout models announced at CES this year include TCL's OD-Zero, LG's G2 Gallery Series with expanded brightness and 97-inch screen size, as well as Sony's Z9K, a mini-LED backlit 8K screen that may very well be the brightest TV ever made. Trust us, you can expect to see some of these incredible sets in all of our TV roundups over the next several months.
As for right now, in our opinion, the LG G1 Gallery Series 4K OLED TV is still the best 4K TV you can buy right now. With its latest-generation LG OLED Evo panel, it delivers the brightest image we've ever seen from an OLED TV, and that helps it to trump all of the other models we've had a chance to test.
As LG's flagship 4K HDR model, the G1 boasts an enormous number of leading-edge features like full HDMI 2.1 support, plus a host of features that make it a killer gaming TV, like variable refresh rate (VRR), auto low-latency mode (ALLM), Nvidia G-Sync, AMD FreeSync, and HGiG. Plus, there's no denying that this TV looks stunning when wall-mounted, thanks to its slender profile.
The G1 is superb in every way, but it carries a premium price tag, which puts it out of reach for many. But the good news is that many of the best TVs of 2022 are far more affordable. And even if they can't quite match all of the G1's attributes, some come very close.
Can't find something you like here? Check out our other TV roundups:
LG G1 Gallery Series 4K OLED (2021)
The best overall TV you can buy
Pros
Increased brightness
Oustanding contrast
Accurate color
Gamer-friendly
WebOS improvements
Cons
Confusing picture settings options
Why you should buy this: It does it all and does it beautifully.
Who it's for: Anyone who can afford it.
Why we picked the 65-inch LG G1 Gallery Series 4K OLED TV (2021):
If you've been following our coverage of OLED TVs, in particular LG's OLED TVs, you know that superlatives just come with the territory. We loved the 2020 LG GX OLED, and the 2021 G1 series is even better.
For a few years now, TV reviewers have observed that despite OLED's incredible black levels, contrast, and color, OLED TVs haven't been able to match QLED TVs in terms of brightness. The LG G1 Gallery Series goes further than any other OLED TV to address this gap, through the use of an OLED panel that LG has labeled "OLED Evo."
It's essentially a tweak of the materials used to produce OLED panels, but it yields visible results. How good is it? "The LG G1 Gallery Series produces the cleanest, most enticing imagery I've seen from a TV yet," our reviewer enthused.
That performance is also helped considerably by LG's latest picture processing tech, quarterbacked by its fourth-generation Alpha 9 AI Processor 4K along with its AI Picture Pro algorithms. While it can sometimes be a little overzealous with motion smoothing unless you intercede, its ability to upscale compressed, non-4K content is the best we've ever seen.
The G1 is ideal for those who want to wall-mount their TV — it comes with everything you need. But it's one of the few TVs that doesn't come with a stand. If you need one, there are two options: A set of feet and a fancier, tripod-based unit, but both are paid extras.
With four HDMI 2.1 inputs, the G1 is more than a pretty face— it's a gamer's dream. With Nvidia G-Sync, AMD FreeSync, HGiG profile support, variable refresh rate (VRR), Auto Low Latency Mode (ALLM), and 4K 120Hz in HDR at full RGB color, this is one of the only TVs in the world that can provide gamers with a big-screen experience that can compare to a dedicated gaming monitor.
LG has also — finally! — updated its good but aging WebOS interface. It's now thoroughly modern with a clean, task-driven interface and there's even a dedicated gaming control center for quick access to all of the settings that gamers need. LG's magic remote has been given a beneficial makeover too, and a clever new "MagicTap" feature that uses NFC to quickly pair your phone to your TV.
If you're wondering about a cheaper option, there is one — LG's C1 Series OLED TV is superb in every way and is the best OLED TV value for the money. But it can't quite keep up with the G1 in terms of overall picture quality, so the G1 remains our top pick.
LG G1 Gallery Series 4K OLED (2021)
The best overall TV you can buy
65-inch Hisense U7G 4K ULED HDR TV (2021)
The best sub-$1,000 TV
Pros
Impressive brightness
Solid black levels
Excellent backlight control
Great for gaming
Easy setup
Cons
Poor off-angle performance
Potential dirty screen effect
Why you should buy this: It brings black levels and contrast into OLED territory without the OLED price tag.
Who it's for: Anyone looking for great picture quality at a reasonable price.
Why we picked the 65-inch Hisense U7G (2021):
As with any great TV, it isn't just one feature that makes the Hisense U7G such a great choice, and as our TV reviewer Caleb Denison pleasantly discovered in his full review, it's the full package at an amazing price, which is why this set has also landed at the top of our best TVs under $1,000 list, too.
But let's start with the U7G's biggest asset: Its brightness. Hisense has a history of making TVs that are brighter than the competition (see the U8G below), and the U7G is a case in point. With up to 1,000 nits of peak brightness, you'll be able to enjoy both standard dynamic range (SDR) and high dynamic range (HDR) content in virtually any lighting conditions your room might have.
Brightness without control just leads to washed-out colors and blacks that look more like grays, which is why we like the U7G so much — it uses 90 local dimming zones to keep the dark areas of an image looking nice and inky, so that field of stars from your favorite sci-fi title looks like it's genuinely in space.
It's easy to take advantage of the U7G's picture quality. It packs every major flavor of HDR including HDR10, HDR10+, Dolby Vision, and HLG, giving you tons of compatibility with whatever your favorite streaming service provides. Thanks to its 120Hz native panel refresh rate, this smart TV is also a great gaming TV. With two HDMI 2.1 ports (and another two HDMI 2.0 ports), you can connect your choice of gaming console or PC and get 4K resolution at 120Hz, along with variable refresh rate (VRR), auto low-latency mode (ALLM), and support for AMD's FreeSync VRR technology.
When it comes to audio, Dolby Atmos support is available, and you can send that signal to your soundbar or A/V receiver in full, 24-bit lossless quality with the U7G's HDMI eARC connection.
Like the U8G, the U7G uses Google's Android TV operating system, which means you get Chromecast built-in as well as access to Google Assistant. But Hisense has taken this a step further: You can grab the included, backlit remote and press a button to speak your commands, or you can do it hands-free using the TV's built-in far-field microphones.
So is there a downside? Just one: As awesome as the U7G's picture quality is, that quality can be affected by your viewing position. It's best to sit directly in front of this TV, as its off-angle viewing is not as good as some of the other TVs on this list.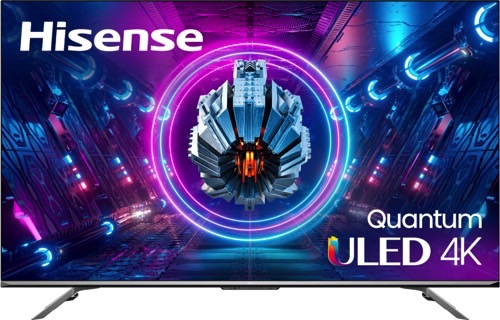 65-inch Hisense U7G 4K ULED HDR TV (2021)
The best sub-$1,000 TV
65-inch Sony A90J OLED 4K HDR TV (2021)
Premium OLED for cinephiles
Pros
Brightest OLED TV
Exceptional HDR performance
Perfect black levels
Stunning detail
Why you should buy this: Sony's latest picture processing tech delivers an unmatched movie viewing experience.
Who it's for: Cinephiles who seek perfection in movie and TV picture quality and have the money to pay for it.
Why we picked the Sony A90J OLED 4K HDR TV:
We declared Sony's 2020 XBR A8H OLED TV as the most cinematic 4K TV, thanks to the subtleties in detail that Sony was able to extract from its OLED panel. 2021's pick, the Bravia A90J Master Series, is still one of our favorite cinematic TVs in 2022.
If you checked out our description of the LG G1 Gallery Series above, you know that it's LG's brightest OLED TV to date, thanks to the new LG OLED Evo panel and LG's picture processor. Well, Sony has always had a way of squeezing even more performance from a given panel than LG, and the A90J exemplifies this capability.
Through specialized heat sinks, Sony can run the A90J's panel longer and harder without damaging the OLED material itself, which leads to an exceptionally bright image — brighter even than the G1. And when you layer on Sony's latest Cognitive Processor XR — a computer brain that Sony claims works a lot like a human brain — you've got what our reviewer described as the "best picture quality I have ever seen […] this TV is now the benchmark, and it's going to be hard to beat."
Yes, the same reviewer said something similar about the G1, but in fairness, he had not reviewed the A90J yet.
The A90J also scores very highly when it comes to sound quality. Sony's Acoustic Surface Audio+ turns the entire OLED panel into a speaker, while its XR Surround makes that sound feel as though it's coming from all around you — perfect for virtualized Dolby Atmos without a soundbar. But given that most A90J buyers will be running an A/V receiver for their sound, it's pretty darn cool that the A90J has its own center channel speaker terminals, which lets you use the TV as a replacement for your existing center channel speaker.
With Android TV (and the new Google TV experience) running the user interface, it's like having a top-notch streaming media device built-in, plus Sony has embedded Apple's AirPlay and HomeKit in addition to Google's Chromecast, leaving no stone unturned in terms of wireless device connections.
There are really only two drawbacks to the A90J, and one of them may not matter to you at all: There's no VRR support for now, which gamers should be aware of, as it might affect their favorite games. The other is the price. At $4,000 for the 65-inch model, the A90J is very, very expensive.
That's why the LG G1 won our overall best pick: It comes incredibly close to the A90J in terms of picture quality, it has every gaming feature you could want, and it costs $1,500 less.
Still, if you want the best cinematic experience in 4K TV, the Sony A90J OLED 4K HDR TV is the TV you've been waiting for.
65-inch Sony A90J OLED 4K HDR TV (2021)
Premium OLED for cinephiles
65-inch Sony X90J HDR TV (2021)
Affordable OLED for cinephiles
Pros
Excellent image
Accurate color reproduction
Great for gaming
Google TV
Cons
Not great for bright rooms
Only two HDMI 2.1 ports
Sound quality is not great
Why you should buy this: It delivers truly superb picture quality at a price that's significantly less than OLED-based TVs.
Who it's for: Cinephiles who want an affordable HDR TV that will perform well in all kinds of environments.
Why we picked the 65-inch Sony X90J HDR TV:
If you've just finished reading our glowing review of the Sony A90J OLED TV and found yourself sighing because such a TV is well beyond the scope of your budget, we have some really good news. Sony's supposedly "mid-tier" X90J offers impeccable picture quality for about 60% less money than the A90J.
Granted, it's not quite as stunning as the A90J, but that's not surprising given its price of just $1,200. What is surprising is just how close the X90J gets, given that it must rely on a conventional, backlit panel to achieve it.
The key to the X90J's excellent contrast and color can be found in Sony's latest image processing chip, the Cognitive Processor XR, and its full-array local dimming (FALD) backlight. Between these two elements, the display can produce extremely dark blacks. Sony's control over backlighting is, according to Digital Trends editor-at-large Caleb Denison, "the best in the business."
But there's more to the X90J than just a great image. It's also packed full of the latest technologies. Dolby Vision, Dolby Atmos, HDR10, and HLG are all natively supported. Apple AirPlay 2, Apple HomeKit, and Google Chromecast are all built-in. With two HDMI 2.1 ports, you get gaming at 4K at 120Hz, HDMI eARC, and auto low-latency mode (ALLM). Sony says it will also add variable refresh rate (VRR) in an upcoming firmware update, which will make the X9oJ an impressive gaming monitor.
Audio is equally impressive, with support for Dolby Atmos and DTS, and Sony's built-in speaker system can do a passable job of simulating overhead height speakers if you don't have a soundbar or A/V receiver.
The new Google TV software, which is built on Android TV, controls the show, and its performance is snappy and satisfying. There are thousands of apps to choose from, including virtually every major streaming service we can think of. Plus, you get a voice remote with direct access to Google Assistant for a multitude of voice commands that go well beyond controlling the TV's functions. Don't want to press a button? The TV's built-in far-field mics can also listen for you to say, "OK Google."
The only caveats you need to consider are the Sony X90J's slightly reflective screen, which might not be ideal for locations with big, bright windows, and its viewing angles, which are narrower than OLED TVs and IPS-panel LCD TVs made by LG.
65-inch Sony X90J HDR TV (2021)
Affordable OLED for cinephiles
65-inch Hisense U8G 4K ULED HDR TV (2021)
The best for bright rooms
Pros
Incredible brightness
Excellent black levels
Vivid, bright colors
Good motion
Excellent for gaming
Great sound
Cons
Poor off-angle picture
Low-luminance color issue
Why you should buy this: It pumps out enough brightness to overcome even the brightest of rooms, and does so without impairing black levels.
Who it's for: Those who want an affordable and well-featured HDR TV that will perform well in all kinds of environments.
Why we picked the Hisense U8G 4K ULED HDR TV (2021):
The 2021 Hisense U8G picks up where 2020's H9G Quantum left off, which is to say that the U8G improves on the excellent H9G in almost every way while keeping the price within striking distance for buyers — the U8G is about $200 more.
But Hisense rewards that extra investment with a TV that is stunningly bright and has a laundry list of desirable features. How bright is it? Our reviewer did the measurements and found that in HDR mode, the U8G could pump out 1900 nits after adjustments. For perspective, that's the equivalent of the Samsung QN90A, a TV that costs more than twice what you'll pay for the U8G. It's also nearly twice as bright as the H9G.
As with the H9G, all of that brightness is accompanied by black levels that are very satisfying, with minimal blooming (the leaking of light from bright parts of the screen to dark parts).
Hisense has also added valuable HDMI 2.1 features, something the H9G was lacking. VRR, ALLM, HDMI ARC/eARC, and 120Hz gaming in 4K are all on tap, which, when combined with the U8G's stellar brightness, makes it a compelling gaming display.
Hisense uses Android TV for the U8G's smart OS, and the performance is snappy. And while the company has no plans to switch to the newer Google TV interface, the TV has full Google Assistant support, letting you issue voice commands via the included backlit remote control or hands-free via the TV's built-in microphones.
HDR support is comprehensive: Dolby Vision, HDR10, HLG, and HDR10+ are all included. Audio support is equally impressive with both Dolby Atmos and DTS Audio when watching IMAX Enhanced content.
Just about the only critique we have is the U8G's off-angle picture quality. Watching from the sides can hurt black levels and you become more aware of the backlight. The best seats in the house will be directly in front of the U8G.
Still, that one concern aside, the Hisense U8G 4K ULED TV is a terrific value.
65-inch Hisense U8G 4K ULED HDR TV (2021)
The best for bright rooms
75-inch TCL 6-Series Mini-LED 8K Roku TV
The best 8K TV within reach
Pros
Excellent picture quality
Surprisingly good sound
Improved Roku TV remote
Easy setup
Excellent for gaming
Cons
Poor off-axis performance
Why you should buy this: It can do 8K resolution at a 75-inch screen size for just under $3,000.
Who it's for: Those who want to be on the leading edge of TV resolution without arranging for a second mortgage.
Why we picked the 75-inch TCL 6-Series Mini-LED 8K Roku TV:
8K is still very much an emerging corner of the entertainment world, so much so that — with the exception of some 8K videos on YouTube — there isn't much actual 8K content readily available right now. That hasn't stopped TV manufacturers from rolling out 8K displays, though, and right now, the TCL 6-Series (2021) R648 is the most affordable way to get a big, 75-inch picture in full 8K resolution.
Given that it shares the same name with TCL's 6-Series 4K Roku TV (R635), it's tempting to think that the R648 is simply a carbon copy, but with more pixels. But our reviewer discovered that's not the whole story. The 8K model has better brightness, contrast, and even better black levels, thanks to its impressive 240 contrast control zones that are used for local dimming of the mini-LED backlight system.
These performance gains are the key to the TV's awesome HDR and SDR picture quality, which is so good, it compares favorably to OLED TVs, which are still the leaders in this area. "Is the R648 a substitute for OLED in a setting with controlled lighting?" asks our reviewer. "No, not in terms of contrast and color. But in a brighter room, it will offer significantly better performance than most OLEDs on the market."
Interestingly, unlike some TVs that require substantial settings tweaks to maximize their picture quality, and then require that you repeat the process for each input and streaming app, the 6-Series 8K TV greatly reduces this annoyance by copying your first set of adjustments to every source, while still letting you adjust each one manually if you want to.
That thoughtful ease-of-use carries over into the excellent Roku software. As usual, you get a huge choice of streaming apps, a dead-simple interface, and integration with a wide variety of ecosystems like Google Assistant, Amazon Alexa, and Apple HomeKit. But TCL also includes an improved Roku remote with voice capabilities. Apple device owners can take advantage of Apple AirPlay for streaming local videos, music, and photos from their gadgets to the 6-Series.
Surprisingly for a TV, the 6-Series R648 has an awesome built-in sound system, complete with its own subwoofer, midranges drivers, and dedicated tweeters. You may still prefer to use a soundbar, but you certainly don't need to. Speaking of sound, Dolby Atmos is supported, and if you connect the TV to a soundbar or an A/V receiver via the HDMI eARC port, you'll be able to enjoy Atmos via those external devices too.
Gamers will be thrilled with the 75-inch TCL 6-Series Mini-LED 8K Roku TV advanced gaming features like variable refresh rate (VRR), auto low-latency mode (ALLM), auto game mode, and THX Certified Game Mode, for the ultimate in gaming performance.
Our only critiques of the 6-Series are relatively minor: The TV suffers from poor off-angle viewing (but with a 75-inch TV that may not matter as much) and there's no built-in support for ATSC 3.0 (or NextGen TV as it's also known).
75-inch TCL 6-Series Mini-LED 8K Roku TV
The best 8K TV within reach
55-inch TCL 6-Series (2020)
Near-OLED picture everyone can afford
Pros
Very good brightness
Excellent black levels
Sharp mini-LED backlight control
Excellent HDR color
THX Certified Game Mode
Cons
Complicated picture settings
Capped at 1440p for 120Hz games
SDR color a bit off
Why you should buy this: It's a good-sized TV with the best features available for its price range.
Who it's for: Anyone who wants a big screen TV with great features for a reasonable price.
Why we picked the 55-inch TCL 6-Series (2020): 
TCL's 6-Series TVs have been a hold-steady for years now, but the 2020 model takes this TV to a whole new level in terms of picture quality. That's because, for this model year, TCL has given the 6-Series a mini-LED backlight to complement its quantum dot technology. The result is color accuracy, black levels, and contrast that are not only better than any other TV at this price, but they're also almost as good as OLED, which is saying something.
Mini-LEDs accomplish this feat by replacing hundreds of large LEDs with thousands of tiny LEDs for much better control over local dimming. "I deem the black levels on this TV to be excellent," our reviewer said, "with good preservation of shadow detail."
Unfortunately, getting the most out of the 6-Series requires some deep digging in the settings menus, some of which can be a bit tricky to decipher. But the effort is well worth it.
As a Roku TV, the 6-Series benefits from the Roku OS's ultra-clean and easy-to-use interface, which extends to all of the TV's functions. The voice remote can be used to adjust the volume level, swap sources, and search for a particular movie or show across all the content services you've linked. With support for thousands of streaming services and apps, it's easily one of the best smart TV experiences you can get right now.
But the 6-Series is also going to appeal to gamers. It's one of the only TVs to feature THX's Certified Game Mode, and those mini-LEDs do a superb job of providing tons of shadow detail, something we've noted can be a challenge on OLED TVs.
With AMD's FreeSync and VRR, you get clean, judder-free video all the way up to 120Hz. The only downside is that the 6-Series' HDMI ports aren't quite fast enough to let you game at these refresh rates while using 4K resolution, so if smooth action matters, you'll have to confine yourself to 1440p.
All in all, the TCL 6-Series is an exceptional TV that brings premium-tier picture quality to those who might not otherwise be able to afford it.
We're still waiting to get our hands on TCL's new 2021 5-Series, which we expect to be an even better budget pick, but until we do, the TCL 55-inch 6-Series is our gold standard for what an affordable TV can be.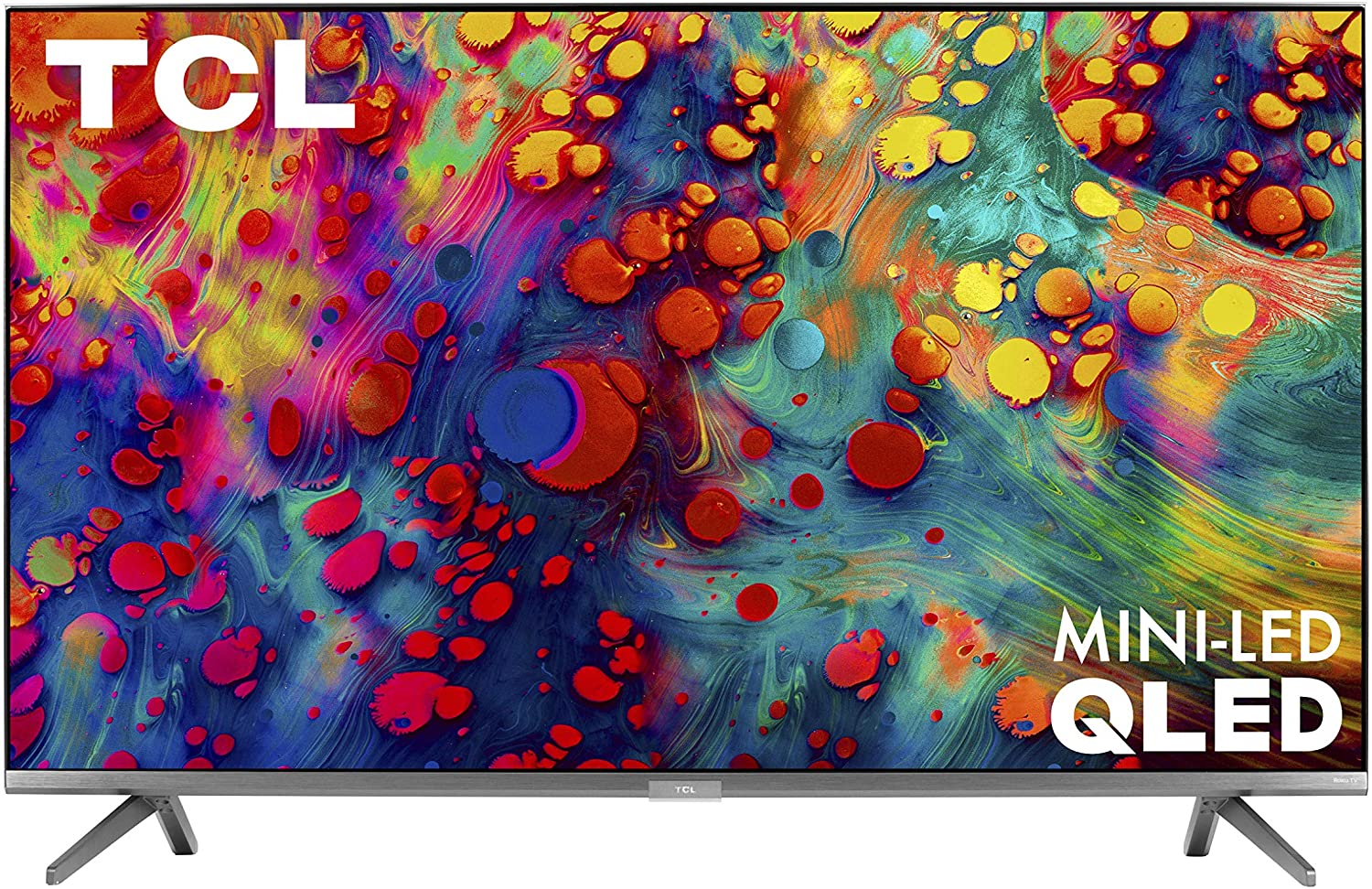 55-inch TCL 6-Series (2020)
Near-OLED picture everyone can afford
Frequently Asked Questions
What size 4K TV should I buy?
The answer to that depends on many factors, including your stylistic preferences, the size of the room, and how far away you'll be sitting. Take a look at our guide to choosing the perfect TV size for you.
What should you be aware of when it comes to viewing angles for your TV?
If you want to enjoy your TV from a variety of viewing positions, you'll need a TV with wide viewing angles. Of the two main LCD panel types (IPS and VA), IPS panels offer the greatest viewing angles. However, this can sometimes come at the cost of worse contrast. Only OLED TVs can offer both excellent contrast and viewing angles, but their image quality might degrade in very bright rooms.
What is QLED?
QLED stands for quantum dot LED TV, and it uses a layer of tiny particles to enhance an LED TV's color accuracy without diminishing brightness. QLED TVs still don't deliver the perfect blacks of OLED TVs, but the newest ones come very, very close. Because QLED TVs often have powerful backlights that use hundred (or in the case of mini-LED, thousands) of LEDs, they can get brighter than the brightest OLED TVs.
You may want to check out our article that covers QLED vs. OLED TV: What's the difference, and why does it matter?
What is OLED?
OLED stands for organic light-emitting diode, and these TVs are notable for their ability to produce perfect blacks and what is sometimes referred to as "infinite" contrast. These TVs achieve this through their ability to completely shut down the light they emit on a pixel-by-pixel basis, something QLED TVs can't do because they rely on a separate backlight to create brightness. You can block a lot of the light produced by a backlight, but not 100%.
How well does 4K TV upscaling work?
That depends on the TV, but as a general rule of thumb, the better (and more expensive) the TV, the better the upscaling.
What if I need a 4K TV for a bright room?
You'll need an OLED or QLED TV, like the 65-inch LG G1 OLED and Hisense U8G Quantum.
Are budget 4K TVs any good?
Almost all new TVs are 4K, so there are plenty of fantastic options to choose from at the lower end of the pricing scale. Don't expect a standard LED TV to rival an OLED, though — set your expectations accordingly. We recommend looking for a quantum dot LED TV (QLED) model, as these will offer the best picture quality at lower prices.
Can a 4K TV work well as a PC monitor?
Yes, so long as your computer has an HDMI output. Adapters can be used for other output types but frequently do not pass along audio.
Do 4K TVs usually have Alexa, Google Assistant, or Siri?
Most modern TVs can be paired with Amazon Alexa and Google Assistant through either an Amazon Echo, Fire TV, or Google Home. Some televisions even have them built-in, eliminating the need for a smart speaker.
Right now, there are no TVs that have Siri built-in. Those that support AirPlay 2 and HomeKit, however, can be controlled using Siri on an iOS device, such as an iPad, iPhone, or HomePod Mini, as well as a Mac.
Do 4K TVs have problems with burn-in?
OLED TVs are the only type of 4K TVs that have the potential to suffer from burn-in, though it's incredibly uncommon. Unless you like to leave the same news channel playing for eight hours a day, seven days a week for weeks on end, you probably don't need to worry about it.
How we test TVs
We begin each model year by bringing in the top-tier televisions from each of the major brands, including Samsung, Sony, LG, and others. These premium televisions help set the highest standard for the year, managing expectations for each model below them, and providing context among the competitors.
We begin testing by setting up each TV in a completely dark room and adjusting its picture settings using tools and methods readily available to consumers — just like you might do at home. From there, we use a series of test patterns and familiar content, from streaming services to Ultra HD Blu-ray to over-the-air (OTA) TV, to judge each TV's performance characteristics, including color production, motion resolution, black levels, backlight influence, brightness, HDR quality, and detail resolution.
Once we've analyzed a TV's picture quality, we move on to elements that affect the user experience, including each set's smart TV interface, user settings interface, remote control, external device recognition and control, and other essential touchpoints.
When possible, we'll place two competing models side by side to provide additional context for the pros and cons of each TV. Finally, we decide which type of user a TV might appeal to. For instance, some TVs provide better bright-room performance, while others are better for a dedicated home theater performance. Some are better for sports, while others are better for watching movies or playing games.
In short, we make a thorough evaluation to determine not only which TVs offer the best picture quality, but those that offer the best overall user experience. After all, you'll be living with your new TV for years to come, and using it should be a joy, not a pain.
Glossary of terms
Here's a rundown of some of the most common terms associated with today's TV technology.
4K Ultra HD
This refers to a display resolution that is four times that of 1080p HD. A 4K Ultra HD TV's pixel resolution is a 3,840 x 2,160 grid in a 16:9 aspect ratio, resulting in nearly 8.3 million pixels. This increase in density adds striking detail and realism to an image and allows larger screens to be viewed from closer distances without individual pixels becoming visible.
High dynamic range (HDR)
High dynamic range is probably most familiar to people through the HDR mode on their digital cameras. It's designed to deliver a picture that has greater details in the shadows and highlights, plus a wider range of colors. HDR in televisions pursues the same goal. The color palette is wider, blacks are deeper, and whites are brighter.
Presently, there are two major HDR formats: HDR10 and Dolby Vision, with a third — HDR10+ — beginning to show up on new models, particularly those from Samsung. The first is the HDR standard, but Dolby Vision offers a premium experience. Consider a TV that supports both. HLG (hybrid log gamma) is another recent addition to the HDR collection, which supports over-the-air (OTA) broadcast content with HDR.
Full-array local dimming (FALD)
This refers to an LED TV's backlighting system. A FALD display contains an array of LEDs spread out in a grid behind an LCD panel, rather than just at the edges of the TV. This LED array is broken up into zones that can be dimmed when necessary to achieve better black levels. Another benefit is more uniform brightness across the screen.
Wide color gamut (WCG)
These are the expanded color reproduction abilities of a 4K Ultra HD TV, which are closer than ever to what we see in a digital cinema. By approaching (or sometimes exceeding) the Digital Cinema Initiative's (DCI) P3 color specification, a 4K UHD TV can produce billions of more colors than a 1080p HD TV.
Quantum dots
A layer of film loaded with tiny nanocrystal semiconductors is placed in a TV's display panel to help produce a more accurate array of colors. Quantum dots work by producing a purer form of white light from a TV's backlighting system, which helps the TV's color filter perform more accurately.
Phosphor-coated LED
An alternative to Quantum Dots, phosphor-coated LEDs have a chemical coating to alter the light's output. When used in a TV, this results in a purer backlight that's more easily manipulated by a TV's color filter, resulting in a wide color gamut and increased color accuracy.
HDMI 2.1
The latest version of the HDMI spec. It offers new enhancements for video games like variable refresh rate (VRR) and automatic low-latency mode (ALLM) and the ability to pass 4K signals to the TV at up to 120Hz, for ultra-smooth motion. HDMI 2.1 is a requirement for 8K video sources like the PlayStation 5 and Xbox Series X. For most non-gamers, HDMI 2.1 is a nice way to future-proof yourself but it's nowhere near a necessity yet.
HDCP 2.3
The latest version of the High-Bandwidth Digital Content Protection technology, which provides copy prevention specifically of 4K Ultra HD and 8K content. Any source device that requires HDCP 2.3 will require a TV with an HDCP 2.3-compliant HDMI port for a compatible connection.
HEVC (H.265)
Stands for "High-Efficiency Video Coding." A new compression technology developed to make large 4K UHD video files smaller and, therefore, easier to stream over broadband Internet connections. HEVC is said to double the data compression ratio over H.264, the predominant encoding technology used today for 1080p videos while retaining the same video quality. A smart TV or streaming set-top box must be able to decode HEVC to playback 4K Ultra HD video from sites like Netflix and Amazon Instant Video.
VP9
An alternative to HEVC developed by Google and used predominantly for encoding 4K Ultra HD YouTube videos. For a smart TV or streaming set-top box to play 4K Ultra HD YouTube videos, it must be able to decode VP9 videos.
Editors' Recommendations