When starting out as a food photographer, it's tempting to go all-out on prop shopping. You can end up spending an absurd amount of money on delicate handmade props thinking that they will single-handedly turn our photos into something spectacular.
We've all been there: thinking that the more props we have, the easier it will be to take great photos. And yet, there is one element we often forget about — looking into what we already have at home!
Not only are props found in your home super cost-effective (basically free), they're also some of the most versatile pieces you can find. Below are six props you can use to elevate your food photography that you very likely already own.
Bed Linen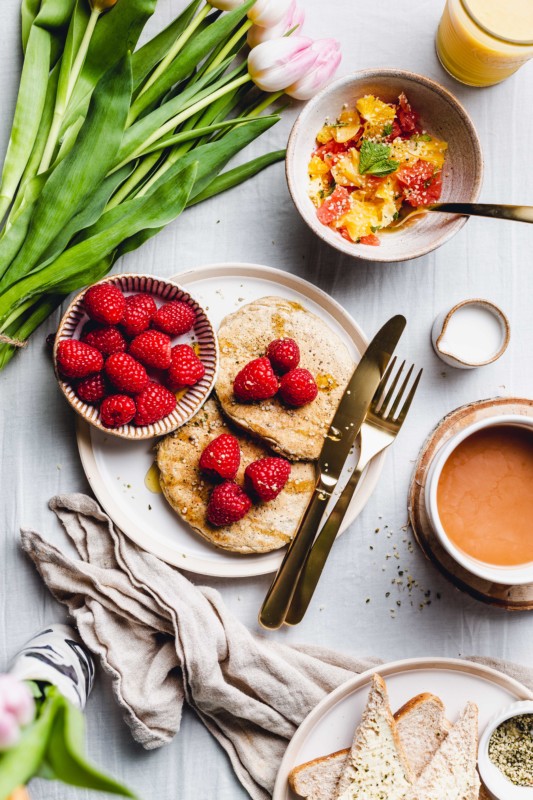 I was hesitant to use bed linen in my photography until a very recent Mother's Day shoot for a client (see above). My goal was to recreate the comfort of a bed, but on a steady surface. I took white bed linen and placed it over my shooting table. It worked so well I ended up experimenting with more colors and using it as my new go-to background.
It makes perfect sense. Photography backdrops can be expensive and bed linen is already there just waiting for its moment to shine! Nobody will know you've used a handy prop from your own home.
Don't bother ironing it — the more texture, the better. One last tip: to avoid an accident, make sure you're using at least four clamps to securely attach the bed linen to your shooting table.
Plants, Herbs, and Flowers
Another prop I simply can't get enough of are plants. When photographing food, creating a seasonal mood can prove a challenge, especially when you're just starting to learn about lighting and editing.
Plants and flowers help you create that seasonal mood so easily, but they also serve as ingredient clues.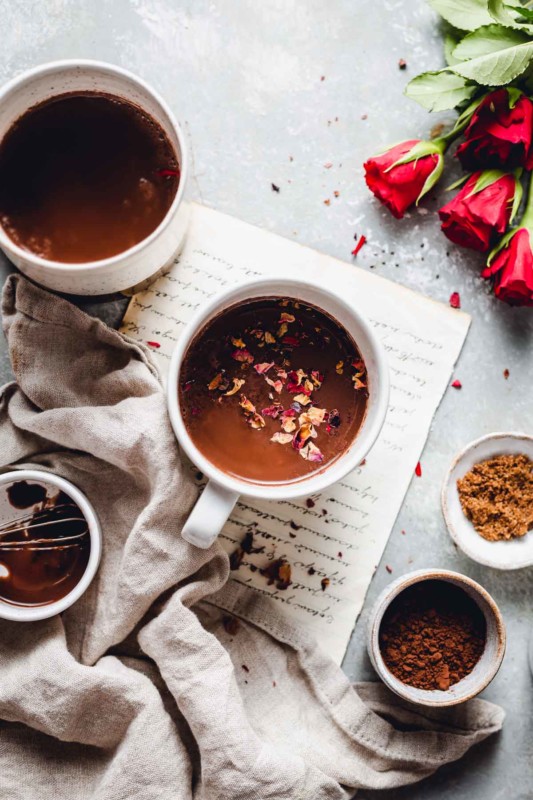 Take my rosewater hot chocolate shoot (above) as an example. I used a beautiful bunch of fresh roses and dried petals to make sure the viewer makes an instant connection between roses and the pictured drink.
You don't need to go all out and buy expensive flowers, though. I like to use small succulents or herbs that are already growing in my home, or you could grab some dried flowers and use them again and again.
Your Grandma's Cutlery
Okay, not everyone's grandma has a sophisticated collection of vintage cutlery, but almost everyone has accumulated some older kitchen pieces that can be used for photography.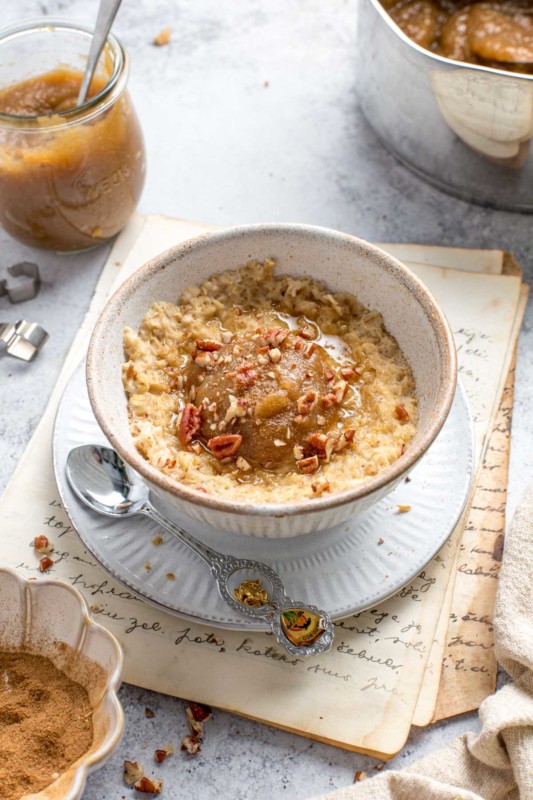 Old teacups are the perfect example as are old plates. These are often a lot more textured and patterned than modern crockery, making them the perfect addition to your photos. Just remember to use them sparingly as their intricate patterns can be slightly more difficult to incorporate into your photos. Stick to a balanced combination of old and new!
I also love using old recipe books or notes just like in the picture above — they're so unique and can add a beautiful rustic feel.
Pickle and Nut Butter Jars
I can already hear you asking: "Are you sure pickle jars are going to wow the viewer?" Hear me out.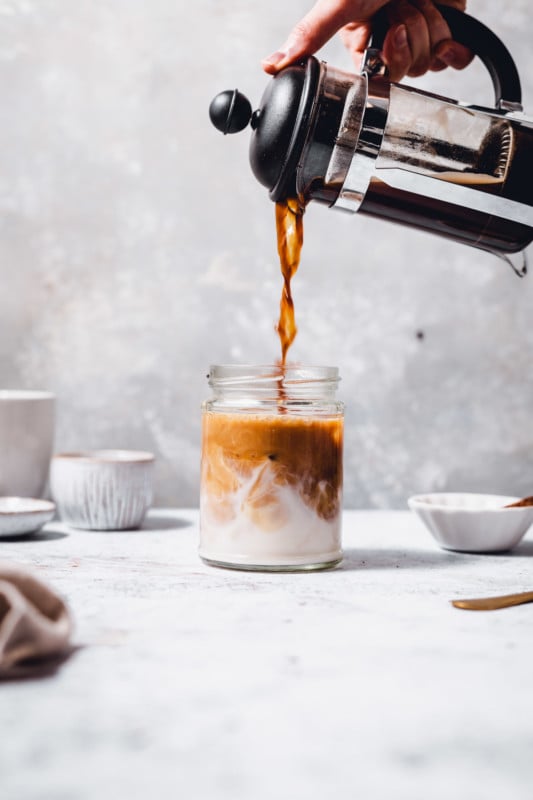 Once you've removed the labels and cleaned them thoroughly, pickle and nut butter jars make the perfect photography prop as they're minimal and smooth enough to be easily incorporated into almost any scene. I prefer to stick to smaller-sized jars and use them as cups (such as in my iced coffee shoot above) or use a label maker to decorate them with small text that helps give context, such as flour, cocoa powder, etc.
Candles
There's a good reason why candles are huge when it comes to decorating homes: they look brilliant and instantly add that cozy feeling.
So why not use them in food photos?
Opt for small or medium-sized candles; these won't draw the attention away from your hero subject but will still add an element of interest. I love using them in seasonal shoots such as during Christmas, Halloween, Mother's Day, Fourth of July, Thanksgiving, or other celebratory scenes.
If you're really trying to impress, find unusually shaped candles; twisted and bubble candles (pictured above) are a perfect example.
White Parchment (Baking) Paper
This list wouldn't be complete without one of the most popular props, an absolute staple in my collection: for crisp and clean shots, I like to use a sheet of brand new, smooth baking paper.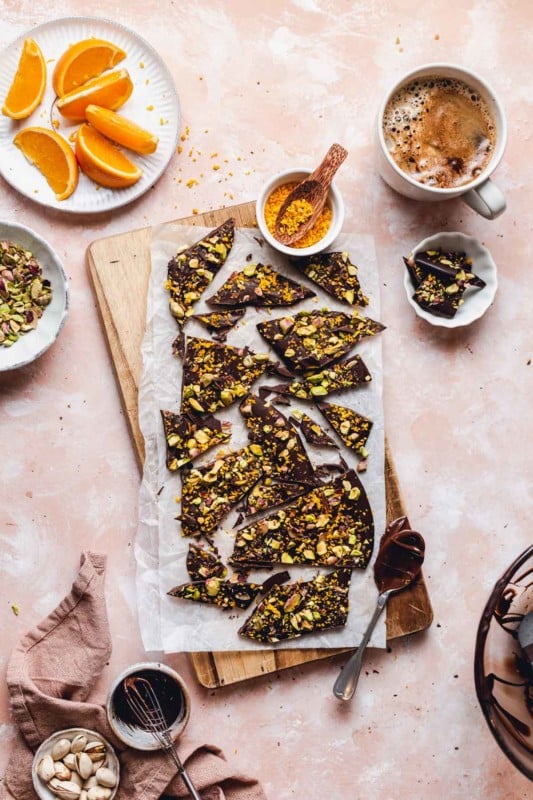 However, most of the time, I simply take a sheet, scrunch it up in my hands, and then lay it back on my shooting surface (as above). It adds incredible texture, while its slight transparency makes sure the white isn't too overpowering or distracting.
3 Tips for A Better Prop Collection
As a full-time food photographer and food blogger, I've learned that keeping things simple is sometimes the best approach. In building my prop collection these are the things I keep in mind:
Size: I deliberately keep a small prop collection, making my food styling quicker and pushing me to reinvent the same props again and again.
Variety: As I shoot content for various clients, I do need a degree of versatility in my props. Most of my pieces are minimal & neutral, with some colourful & heavily patterned pieces sprinkled in between. Stick to neutral props, but don't forget to add some bold ones from time to time!
Source: If you can, try to source your props second-hand. This is so much better for the planet, but also works out cheaper and leaves you with more unique props! It's a win-win situation!
---
About the author: Tajda Ferko is a food photographer & recipe developer behind the popular vegan blog My Vegan Minimalist.