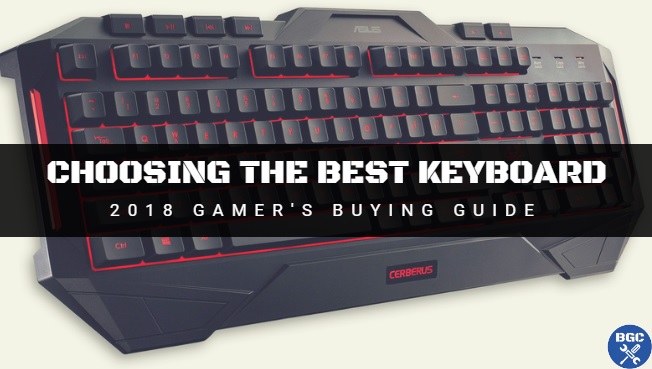 How to Choose the Best Keyboard for Gaming Casually or Competitively (eSports) Including the Top Recommended Cheap and Mechanical Gaming Keyboards Right Now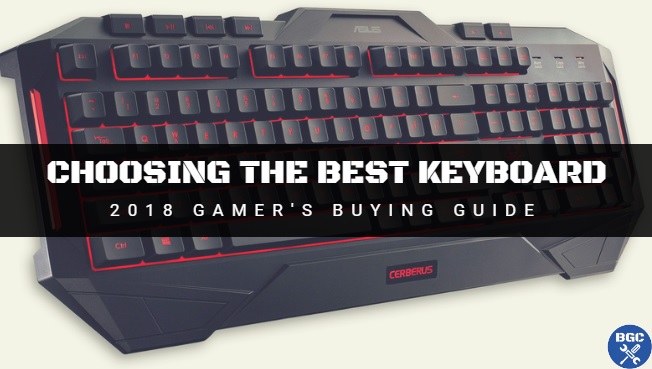 Last Updated: August 26, 2018
Choosing the best gaming keyboard for your new gaming computer can be one of the more simpler choices when it comes to buying accessories, and some gamers will just want to get a cheap, no-frills super-basic keyboard that simply gets the job done to save money. 
Then there are those who want to spend a little more time researching in order to get a proven, good gaming keyboard that the top gaming pros use and that is higher-quality, long-lasting, has more features and is the most responsive.
In this buying guide to choosing the best gaming keyboard we'll cover what you need to know about keyboards as a gamer, explain the features that you should take into account, and as always our current recommended models that are based on both extensive, objective, unbiased market research and studying what top gamers in varying genres actually use themselves which forms a well-rounded view of what the very best value for money keyboards will serve you best as a casual or hardcore competitive gamer. Let's begin the hunt.
CONTENTS
---
1 – The Best Gaming Keyboards for the Money (Recommended Value Picks as of September 2018)
---
1.1 – Best Cheap Gaming Keyboard Under $20 (Sept 2018)
Logitech MK120
Type: 
Wired
Make: 
Non-Mechanical
Recommended For:
If you're on a tight budget and just want a cheap, basic keyboard for general use and that will suffice for casual gaming, this no-frills keyboard and mouse combo is worthy of consideration.
Honorable Mention:
Amazon Basics Wired Keyboard
Type: 
Wired
Make: 
Non-Mechanical
Recommended For:
Amazon's basic keyboard is also a good buy if you are just looking for the absolute cheapest board possible to just get the job done and nothing more.
---
1.2 – Best Budget Mechanical Gaming Keyboard Under $50 (Sept 2018)
Gigabyte Mechanical
Type: 
Wired
Make: 
Mechanical (Cherry Red Keys)
Recommended For:
A good value, entry-level mechanical keyboard. Can't really go wrong for the price if you don't need the best of the best out there.
---
1.3 – Best Gaming Keyboard Under $100 (Sept 2018)
Logitech G105
Type: 
Wired
Make: 
Non-Mechanical
Recommended For:
A decent entry-level gaming keyboard with backlit keys, 6 programmable keys and decent quality for the price. Even though it's not mechanical, as they cost quite a bit more, the keys feel nice and solid and this board should last you a fair while if you don't mistreat it too much.
---
1.4 – Best High-End Gaming Keyboard Under $150 (Sept 2018)
Corsair K70 RGB RapidFire
Type: 
Wired
Make: 
Mechanical (Cherry MX Speed)
Recommended For:
One of the best gaming keyboards on the market with high-quality, responsive, mechanical Cherry MX keys, adjustable RGB lighting, programmable keys, audio controls, great durability, and more. If you're willing to invest in the best of the best to ensure you get a good gaming keyboard that'll last you the distance, this is what we'd suggest. But again, most gamers won't need something fancy like this, so be sure you're going to actually tap into the benefits over a cheaper one so you don't regret your purchase.
HONORABLE MENTION:
Logitech G710
Type: 
Wired
Make: 
Mechanical (Cherry MX Blue Keys)
Recommended For:
Another high-quality mechanical keyboard for all-purpose gaming and good for accurate typing. Logitech are usually a safe bet for gaming accessories, and this board is no exception.
---
1.5 – Best Keyboard for eSports Used By Pro Gamers (Sept 2018)
We also keep one continuous eye on which keyboards are most popular among top pro gamers across all eSports genres, and while you don't absolutely need to use the same keyboard as the top pros as there are many good keyboards out there suitable for eSports and the keyboard isn't as crucial as a mouse for competitive gaming, it's a good place to start your keyboard search as most pros do in fact use great keyboards. The following are some of the most popular gaming keyboards you'll find top pro players across all genres using in this day and age for the big games which include certain features that will give you a slight edge as a competitive eSports player (or rather, eliminate anything that gets in your way) such as lightning-fast responsiveness. 
Corsair Strafe Mechanical Gaming Keyboard
Type: 
Wired
Make: 
Mechanical (Cherry MX Red Keys)
Recommended For:
A great highly-responsive quality mechanical keyboard at a good price. Highly recommended for fast-paced competitive gaming and looks cool too with red LEDs.
Honorable Mentions: (good keyboards for eSports)
Zowie Celeritas II

SteelSeries 6GV2

Corsair STRAFE

Corsair Vengeance K95

CM Storm QuickFire TK

FNATIC Gear Rush G1

Logitech G810 Orion Spectrum

XTRFY K2

Razer BlackWidow Chroma V2

HyperX Alloy FPS
---
2 – How to Choose the Best Keyboard for Gaming: Features and Specs Explained
---
2.1 – Do Keyboards Matter for Gaming?
Having a good gaming keyboard by your side can help you be faster and more efficient during certain games, it can make something as boring as typing feel like an art, and it can really add to the overall aesthetics of your build if you get matching LED lights. For eSports and professional gamers, having the best gaming keyboard suddenly becomes a lot more important as you want the best tools to give you any edge that you can get over your competition.
For aspiring and pro gamers, your keyboard isn't as important as your choice of mouse when it comes to eSports domination, but make no mistake; it's still an important consideration as not all keyboards are created equally and some will give you an upper hand in certain ways. Like choosing a mouse, picking a keyboard ultimately comes down to personal preference and what feels most comfortable and accurate to you.
Ideally you'll want to try different boards if at all possible, and settle on the one that feels the best for you, but if this isn't possible such as when ordering online then make sure to do your research to ensure you pick the right board for your needs. 
You don't want to be stuck with an uncomfortable keyboard as you'll be spending a ton of time with it, and health problems like wrist injuries are no joke and not to be taken lightly in the eSports scene. They do happen. Getting good at a game requires tons of hours at your keyboard and mouse, so ergonomics matter; whatever you do don't use a keyboard that is uncomfortable or straining.
2.2 – Mechanical vs Non-Mechanical (Membrane) Keyboards for Gaming
There are two main types of keyboards: mechanical, which are generally higher-quality and have each key made individually, and membrane (or rubber dome) keyboards which most modern cheaper keyboards are made from and consist of a rubber sheet for all the keys. Mechanical keyboards are better for gaming (and non-gaming) as they give you clearer, stronger, more precise feedback when you press a key in the form of a bump, click or clear feeling of having pressed the key, which means you can more accurately and precisely time your commands from your keyboard to your game.
In other words, with mechanical keyboards you will have the best responsiveness, with the most tactile feedback, and you'll also eliminate missed key presses. Plus, mechanical keys are higher quality and more durable, and therefore will last longer making their higher price tag worth it in the long run.
If you're not sold on investing in a mechanical keyboard for top eSports, especially for games like CS:GO or Overwatch where every little edge counts, here's what will change your mind: every single CS:GO and Overwatch professional gamer uses a mechanical keyboard. They're also extensively chosen by most if not all gamers in other genres, too.
You'd be wise to follow suit if you also want to compete at a high level and remove any barriers to playing at your best, however if you're on a tight budget then a cheaper, non-mechanical setup will have to do and it isn't the end of the world. If you have to spend less on a peripheral, in most cases it's better to make it your keyboard as opposed to your mouse or monitor.
Linear vs Tactile vs Clicky Mechanical Keyboards
These days there are tons of different types of mechanical keyboard switches in production such Cherry MX Red, Cherry MX Brown, Kailh Black, Kailh Blue, Razer Logitech Romer-G and the list goes on and on. Each has their own unique characteristics and feel, but thankfully they all fall under one of three main types which makes choosing the right mechanical keyboard a lot simpler.
What Are Linear Keys? (eg Cherry MX Red)
These types of keys are typically quiet, and feel smooth without having a tactile bump or click to give you feedback. Not recommended for heavy typing, but well suited for fast-paced games that require rapid, repeated keystrokes as there is less force required to press each key and there's no dome or click to overcome on each press.
What Are Tactile Keys? (eg Cherry MX Brown)
Quiet like linear keys, but with a small tactile bump in the middle of travel that you can feel to know exactly when your system registers your keystroke.
What Are Clicky Keys? (eg Cherry MX Blue)
Like tactile keys, there is a small bump in the middle of travel, but instead of no sound there is a sharp click sound at the point of actuation (ie when your system registers the keystroke). Usually the best keys for heavy typists who don't mind the added noise, but they often have what's known as hysteresis which isn't an ideal trait for gaming.
Hysteresis is basically when the release point of a switch (the moment of de-actuation) is higher than the point of actuation, with too much hysteresis being a problem for gaming because it's harder to repeatedly press the same keys in rapid succession. Overall, any type of mechanical keyboard can work well for gaming and it really comes down to personal preference and what feels best to you.
But if in doubt go for a linear or tactile mechanical keyboard as the clicky keys can be problematic due to that hysteresis; to do fast key presses you might have issues as you have to un-release a key more deliberately to then press it again.
2.3 – Do You Need Macro Keys for Gaming and eSports?
Macro keys and backlighting, while not crucial aspects of having a good keyboard for eSports, may be features you want to also factor in. Macro keys are bonus keys on a keyboard that you can assign certain functions to using the provided keyboard's software, such as activating certain in-game skills or abilities with ease.  In other words, they're extra programmable keys on your keyboard which you can assign to certain moves or functions in the game. Most gamers won't need this feature as they're mainly aimed at MMO gamers who want to easily access certain moves and combinations in-game, but the extra keys can also come in handy with competitive shooters and RTS games. 
Keyboards may come with a few macro keys, and some with many such as 18 or so to micromanage all sorts of things in your game, but they're usually quite a bit more expensive and larger. Make sure you have a use for these keys, and have the space for a larger keyboard before spending the extra money on a fancy keyboard. Using macros on a gaming keyboard all comes down to personal preference and the specific games you play, but also be wary of the rules; usually macros are fine to use in competitive play so long as one key is only assigned to one function.
2.4 – What Are Backlit Gaming Keyboards?
Backlighting is a pretty standard feature nowadays when it comes to gaming keyboards, with some models having either single color lighting, multiple colors, or special effects. While backlighting is mainly for aesthetic purposes, it does have its practical uses too such as seeing in the dark, and setting the color to change when it's time to respawn in CS:GO if you're the kind of player who likes to open another window once you've been killed (eg some SteelSeries keyboards can do this with SteelSeries' GameSense program).
2.5 – Wired vs Wireless Keyboards for Gaming?
As you can probably imagine based on all our recommended gaming keyboards above being wired models, for gaming you ideally want to get a wired keyboard to remove the potential issue of input lag. For competitive gaming and eSports, this becomes even more important and getting a wired keyboard is a must. As a casual gamer though, it won't really matter.
---
Trusted Stores
The retailers I recommend most, for the regions that make up the majority of my readers.
USA:
Amazon US /
BestBuy /
Canada: Amazon CA
Australia: Amazon AU /
PLE /
UK: Amazon UK / Overclockers
Disclosure: As an Amazon Associate we earn from qualifying purchases. We may also earn a commission on sales made through other store links (Best Buy, B&H, PLE, and OCUK).
Trusted VPN
VPNs are fast becoming must-have software these days to improve the security and privacy of your PC when online. There's lots of VPNs but NordVPN is objectively one of the best and the one I use. VPNs also help for online gaming as explained here.
Search Articles
Most Shared
About Me
Indie game programmer currently working on my first official game release (after years of hobby projects), an atmospheric story-driven VR FPS built with Unreal Engine to be announced once I'm ready here and here (for anyone into VR FPS's). Also likes writing about tech, which helps to fund development of the game.
My favs of all time are OOT, Perfect Dark, MGS1 and 2, GE007, DKC2, THPS3, HL1, WC3, Vice City, and KOTOR, with the most recent addition to my list of immortals being the VR masterpiece Half Life Alyx. If you want help with a new build or upgrade feel free to ask on the main PC builds guide. I try to respond to every comment. – Julz