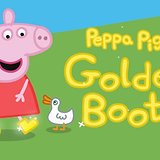 Today's free app of the day that I recommend is Peppa Pig: Golden Boots. This mobile game for kids on Android and iOS will delight collectors of this cult series. The app is temporarily free on the Google Play Store and Apple App Store instead of $2.99.
TL;DR
The deal expires in 5 days on the Google Play Store.
Peppa Pig: Golden Boots is rated at 3.8 stars on the Play Store and 3.6 on the App Store.
The mobile game does not contain ads or in-app purchases
Why is this free app worth it?
Peppa Pig is a franchise of books, games, and even movies for children with a very strong fanbase. If you also collect Peppa Pig games, this new episode entitled Golden Boots should interest you (and your children too).
Like all the other iterations of the Peppa Pig Universe, Peppa Pig: Golden Boots is composed of several mini-games that consist of solving visual puzzles based on associations of shapes and colors. The game is only available in English, but the tasks are, in my opinion, quite playable even for a non-English speaking audience.
The game contains no ads or in-app purchases and does not require an account to play. In fact, the interface is minimalist in the extreme. Even the traditional adult-only menu (via a secret code) is lacking to say the least. There is only one "Play" button on the home screen, which is at least intuitive.
Does this free application respect your personal data?
You'd expect a mobile game for kids not to collect any data, but as is often the case with Peppa Pig: Golden Boots, this is not the case.
As a rule, you don't have much to worry about as long as you don't enter any contests related to the game. Because in this case, the developer states in its privacy policy that it collects a lot of data, mainly the data you fill in via the registration forms for contests, including information about your child.
Again, this data is only collected if you fill it in yourself. And this is not done directly in the game but rather via the official website. For the rest, a scan via the exodus-privacy platform tells us about the presence of two analytics trackers and access to five permissions, including network access, although the game works offline.
Get a 30-day Free Amazon Prime Trial
What do you think of our free application of the day? Have you installed the game Peppa Pig: Golden Boots on your smartphone? Tell me what kind of applications you would like to see more often in our deals articles.