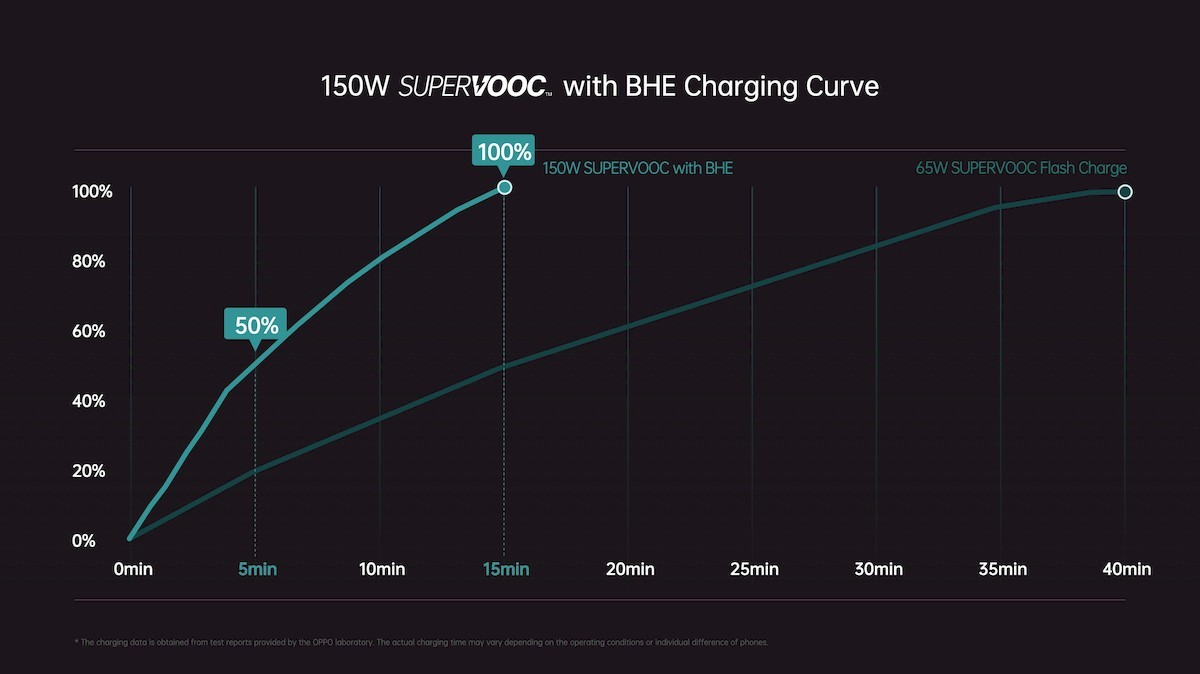 Just a few days ago Oppo unveiled the Find X5 flagship duo, which supports the new 80W SuperVOOC. Today at its MWC presentation the company announced what comes next – an upgraded system that will nearly double the power.
In a laboratory test, the upcoming 150W SuperVOOC system charged a prototype phone with a 4,500 mAh battery from 1% to 50% in just 5 minutes and got all the way to 100% in a total of 15 minutes (this was with the device powered on, but inactive and in airplane mode). For comparison, the older 65W charger needs around 40 minutes to get to 100%.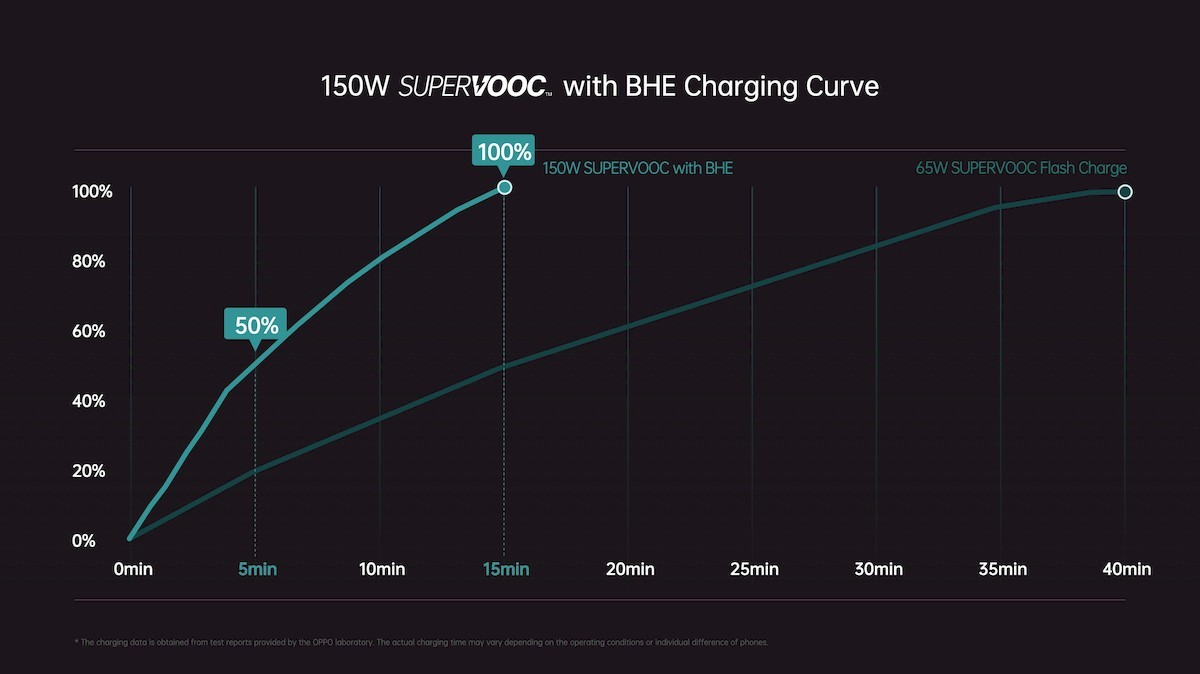 The new system introduces a 150W SuperVOOC charger. Thanks to its GaN technology, the charger measures 58 x 57 x 30 mm and weighs 172g. This isn't much larger than Oppo's old 65W SuperVOOC adapter. This also means that the adapter has a power density of 1.51W/cm³, much higher than a typical charger.
While VOOC tech is proprietary (with 1,786 patents granted and 1,604 still pending), the new charger supports the standard USB Power Delivery and PPS protocols that are used by phones, laptops and other gadgets.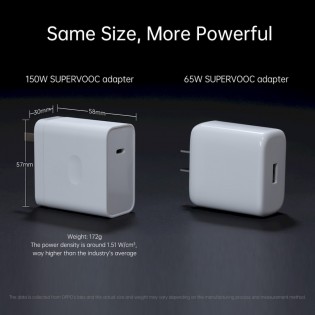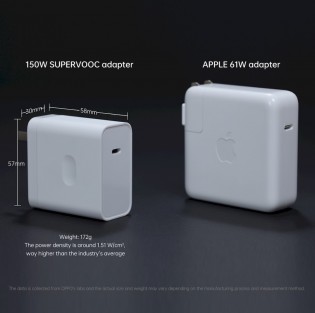 Size comparison: Oppo's new 150W SuperVOOC charger, the old 65W charger and Apple's 61W charger
Anyway, the charger outputs 7.5A at 20V. Inside the phone are two battery cells, each with its own charge pump, which converts the incoming electricity to 5V/15A and feeds that into the battery.
Oppo addressed concerns about battery life in two ways. The first is the Battery Health Engine, which employs a custom chip to manage the battery. In lab testing a battery retained 80% of its capacity after 1,600 complete charge cycles (double the industry average of 800 cycles).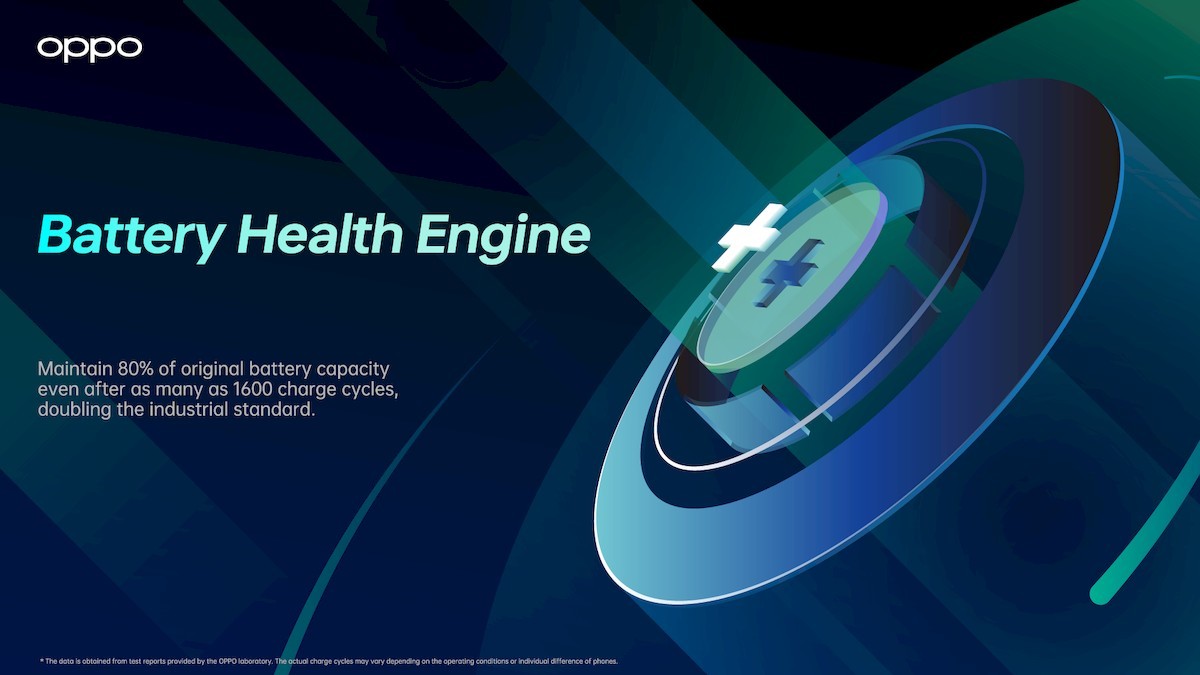 This is in part thanks to the Smart Battery Health algorithm, which constantly monitors the negative electrode to minimize the occurrence of dead lithium – lithium ions that become trapped and are unable to carry charge (losing lithium that way is what reduces the battery's capacity). The Oppo Find X5 series already features the Battery Health Engine.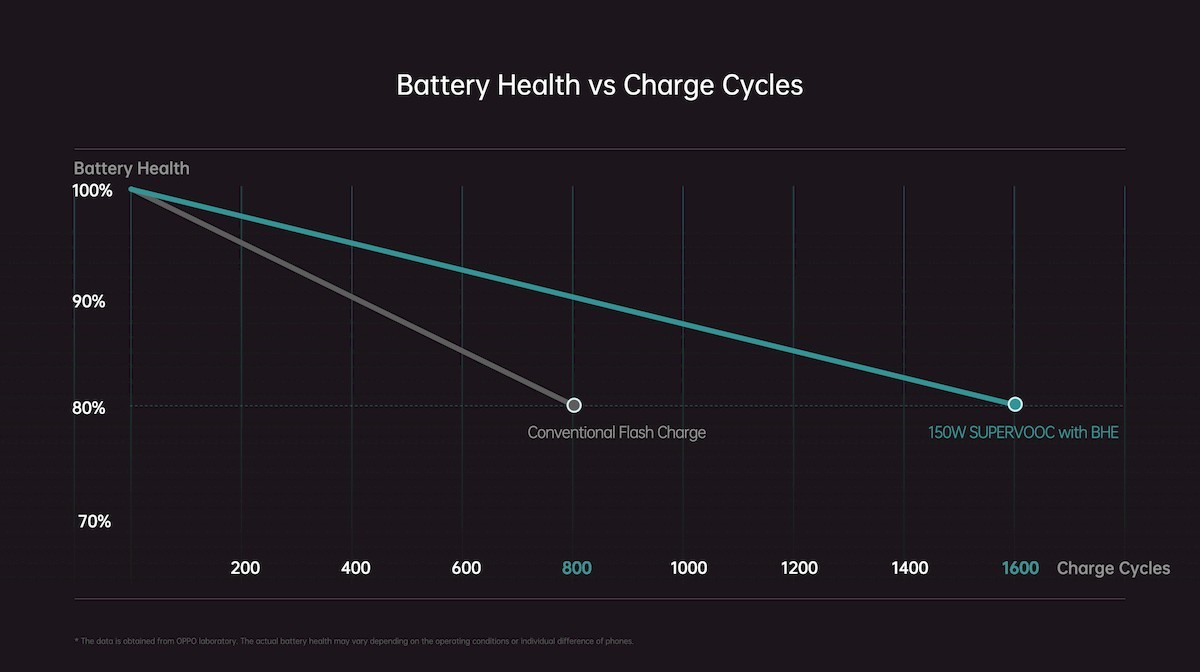 The Battery Healing technology tackles another issue. The battery design that Oppo uses includes a Solid Electrolyte Interface (SEI), a durable film on the battery's electrodes that protects them from degradation. Battery Healing here refers to a special formula for the electrolyte that continuously repairs the SEI layer while the battery is charging and discharging. This keeps the electrodes in good condition, which improves the battery's performance and extends its lifespan.
The first phone to make use of the 150W charging system will actually be a OnePlus device, coming in the April-June quarter. The company revealed that it is working on improving SuperVOOC to support 200W and above charge speeds. By the way, Realme also announced 150W charging tech earlier today.