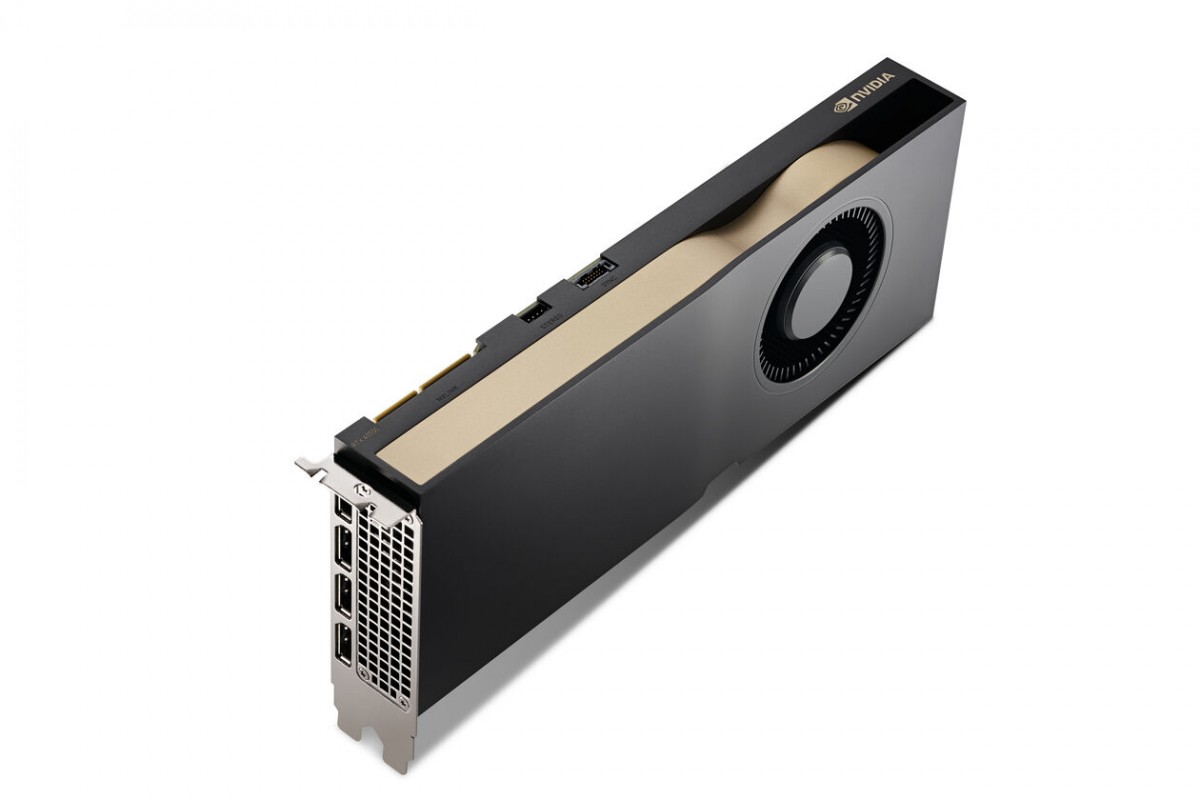 Nvidia unveiled new GPUs, but no, it's not the RTX 4000 series. Instead the company is introducing a number of workstation GPUs – one for the desktop and several for professional laptops.
The Nvidia RTX A5500 is based on the GA102 GPU with 10,240 CUDA cores. This is the same configuration as an RTX 3080 Ti. However, this GPU uses ECC memory (Error Correction Code), which can detect and correct errors. This doesn't matter so much for games, but it is crucial for professional tasks – simulations, 3D design, machine learning and so on – where errors can lead to incorrect results.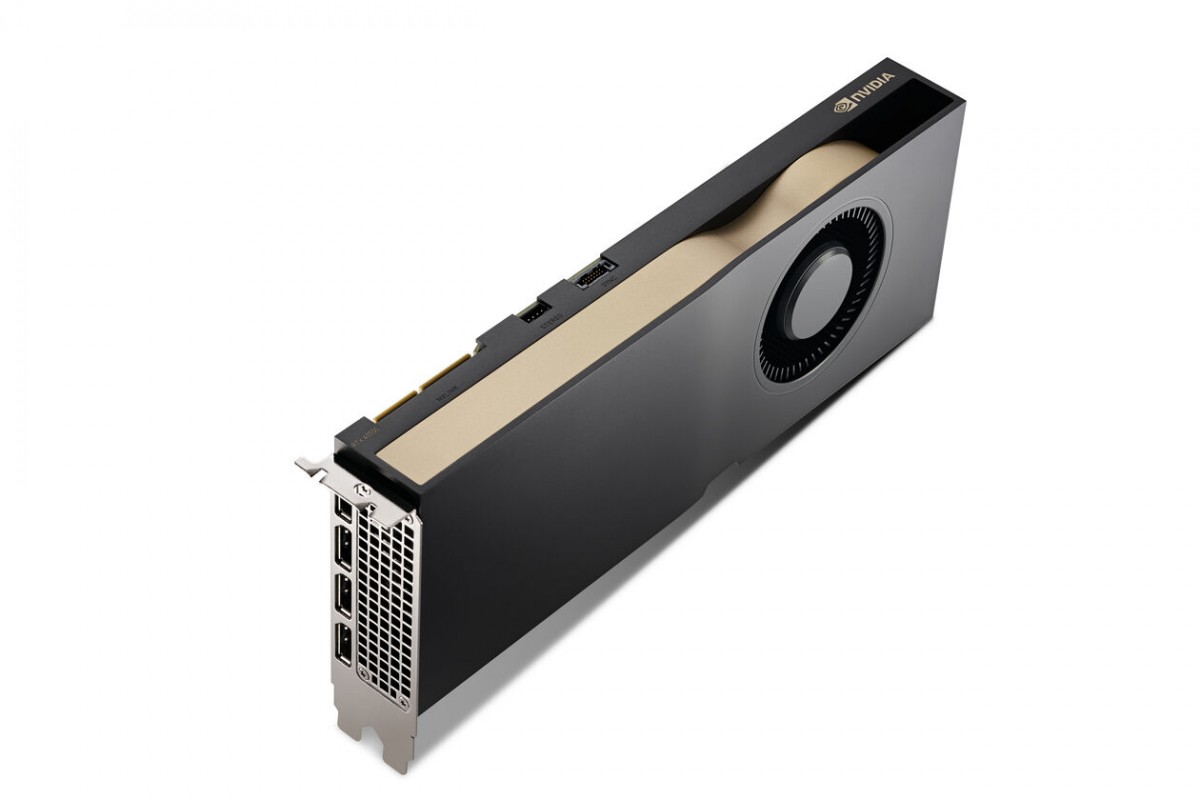 Nvidia RTX A5500 workstation GPU based on the Ampere architecture with 24 GB of ECC GDDR6 VRAM
The A5500 has a whopping 24 GB GDDR6 (with ECC) and that can be expanded to 48 GB using Nvidia NVLink to hook up a second GPU. The A5500 offers double the performance for ray tracing compared to the previous generation and can be up to 12x as fast for machine learning tasks. A single card can be used by multiple remote users thanks to virtualization.
Nvidia also unveiled a laptop version of the RTX A5500. This one is based on the GA103 chip (same as the laptop RTX 3080 Ti) and has 7,424 CUDA cores, nearly 30% less than its desktop counterpart. Correspondingly, single-precision (FP32) performance falls from 34.1 to 24.7 TFLOPS. Also, this GPU comes with 16 GB of GDDR6 VRAM of the non-ECC variety.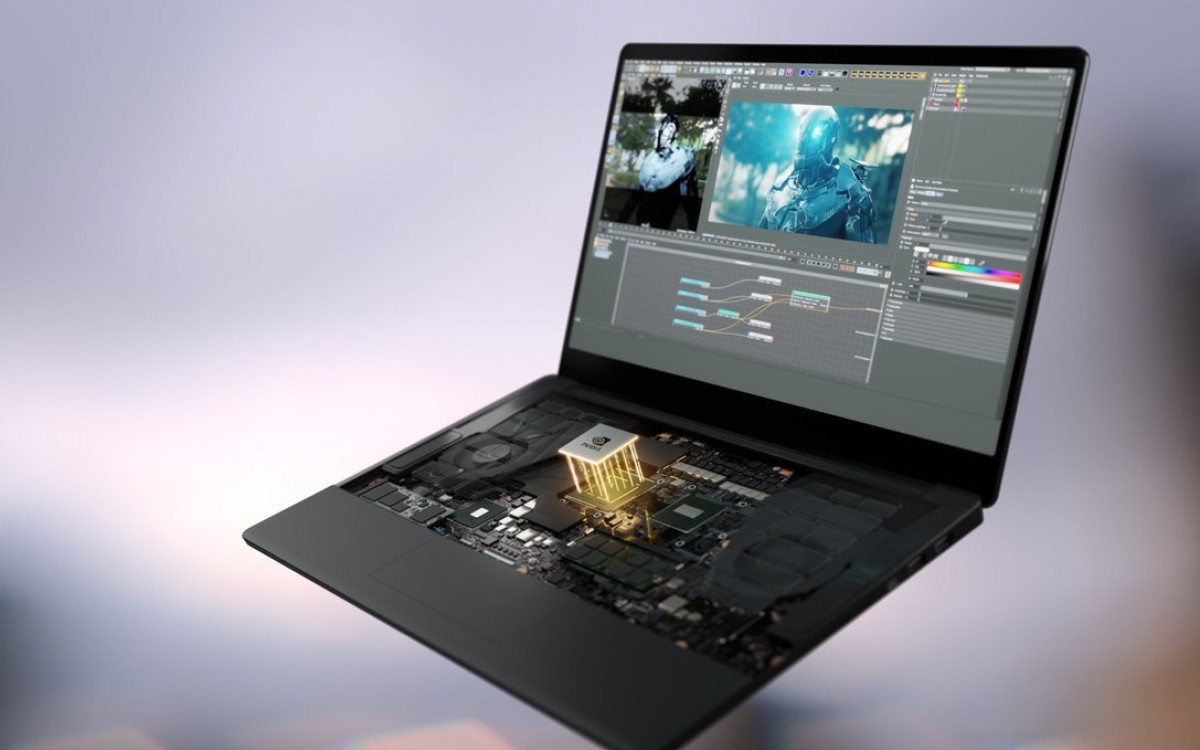 There's no word on pricing yet, but the desktop RTX A5500 is available today from select Nvidia partners and will be featured in pre-built systems in Q2. Workstation GPUs aren't cheap even in better times, however, so if your budget can't stretch to an A5500, you still have some options.
The Nvidia RTX A500 may be the smallest Ampere GPU for laptops yet with just 2,048 CUDA cores and 4 GB of VRAM (for comparison, a 3050 has 2,560 cores). There are also the A1000, A2000 and A3000 with 4 GB, 8 GB and 12 GB of VRAM respectively.
The mid-range is the RTX 4500, which is based on a GA104 with 5,888 CUDA cores (this parallels the RTX 3070). This one is equipped with 16 GB of RAM, the same as the pricier A5500.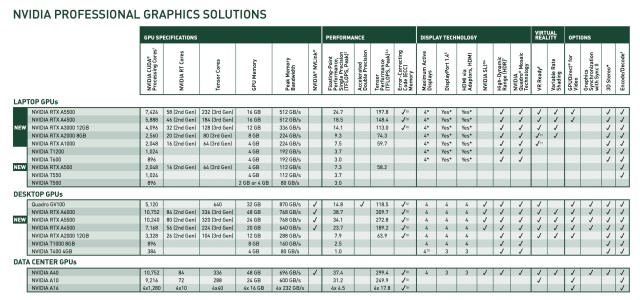 The current line-up of Nvidia workstation GPUs
Endorsements from professionals using Nvidia GPUs were quick to follow. Here is one from Brian Rotty, a senior engineer at M4 Engineering (a leading aerospace engineering firm focused on conceptual aircraft design, analysis and development):
"The multi-app product development workflows we use at M4 are well-served by the NVIDIA RTX A5500 and its 24GB of memory. My team can handle larger CAD and CAE datasets than before and, critically, we can interact with and iterate these larger datasets simultaneously by making use of the extra GPU memory headroom and compute capabilities of this new card."
Here is a demonstration from a CG artist who uses an RTX powered laptop to generate create a 3D animation from scratch: